New BW partnership certifies students in exercise oncology for cancer patients
Exercise science students at Baldwin Wallace University have added certified, specialized skills that will benefit cancer patients and survivors as part of the first university partnership of its kind with Maple Tree Cancer Alliance.
The new collaboration features a semester-long Health, Physical Education and Sport Sciences (HPESS) course to build knowledge of cancer, various treatments and side effects, as well as rehabilitation and exercise interventions.
The course culminates with students taking an exercise oncology instructor's certification exam administered by Maple Tree and endorsed by the National Academy of Sport Medicine (NASM).
Meeting unique patient needs
Fifteen BW students are the first to be certified and are now prepared to contribute to the comprehensive treatment program for a cancer patient or survivor.
Students were trained on how to conduct appropriate patient evaluations using tools like the Rocky Mountain Rehabilitation Center treadmill protocol, which is specific to clients with cancer.
"A patient with active cancer in treatment or who is in remission has several factors which need to be considered in using exercise as a standard of care," explains Dr. Amy Jo Sutterluety, associate dean of health, physical education and sport sciences. "First, if the patient is in current treatment, aspects such as lymphedema, immune response and fatigue must be evaluated and exercise prescribed accordingly. A client's treatment might also increase side effects, such as cardiotoxicity or peripheral neuropathy, which would require exercise modifications."
Special Population: 17 million strong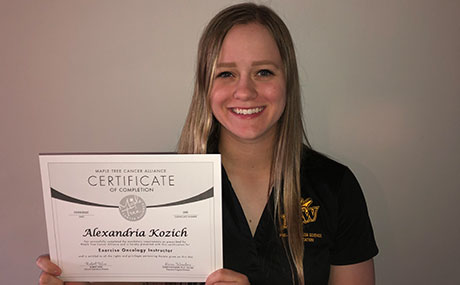 One of BW's newly certified students, Alex Kozich '20, says, "This has been a great experience that has allowed me to learn more about working with a special population and applying that knowledge outside of a typical classroom setting to increase my professional background."
With more than 17 million cancer survivors living today, Maple Tree Alliance contends there is a crucial need for an appropriately trained and certified workforce to meet the need.
The BW-Maple Tree partnership is expected to continue in the fall.