BW salutes more health care heroes
A few weeks ago, we showcased seven BW health care heroes. The response from readers was so good that we decided to do an encore and feature seven more. The dedication, compassion and skill each person brings to his or her profession is part of a continuum of health care heroes throughout the world who are working tirelessly to save lives.


As a student in the mid-1970s, Jeff West had his own encore performance. In 1978, he graduated from BW with a Bachelor of Science degree in biology. A year later, he earned a Bachelor of Music degree in clarinet performance from BW. He went on to earn a Master of Music from Yale University and to work as a professional musician before attending Columbia University for an M.D.
Today, he is an anatomic and clinical pathologist at Danbury Hospital in Danbury, Connecticut, located 70 miles from the COVID-19 epicenter of New York City.
"Our laboratory is in the early stages of collecting 'convalescent' plasma — the liquid portion of the blood from patients who had COVID-19 and have now recovered," explained West. "This 'old fashioned' idea dating from the time of the 1918 flu outbreak is being used again to help treat patients with severe COVID-19 disease.
"Organizing these collections, screening patients and performing the plasmapheresis itself is a huge undertaking," noted West. "In addition, testing for the virus and for antibodies against it is a never-ending battle."
Positive Change for the Future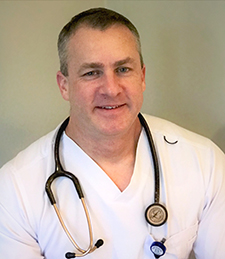 Like West, Chris Morris '19 had a career change. The Medina, Ohio, resident graduated from BW's Accelerated Bachelor of Science in Nursing program and accepted a job in the emergency department of Cleveland Clinic Fairview Hospital.
"I'm grateful to BW's nursing program for holding my class to high standards. The skills we learned are certainly being put to the test, but I feel confident my classmates and I are prepared for this challenge," he stated.
"As with any unexpected stresses, certain weaknesses in the overall system can be exposed. My hope is that we can learn from this situation and make appropriate adjustments going forward. I believe there are opportunities for positive changes," he remarked.
"For example, a broader investment in the use of telehealth (which is being increasingly utilized during the pandemic) could be beneficial, particularly for our aging population. An expansion of telehealth also could help bring health care to those in need who may not have the means to travel or to prevent those who are sick from leaving their home unnecessarily," believes Morris.
A Personal Journey of Love and Sorrow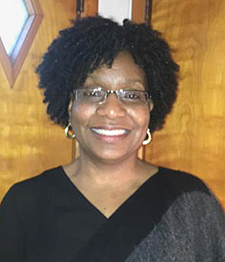 "As a social worker, I have a passion for helping, advocating for and empowering others," explained Tangela Woods, M.S.W., L.S.W, who is a 2020 graduate of BW's Master of Public Health program (MPH) employed at The MetroHealth System.
"COVID-19 gave me a greater desire to help patients and families challenged with the ramifications of this virus. I had the opportunity to talk with patients who were diagnosed with the virus, previously hospitalized and recovered from it," said the Euclid, Ohio, resident.
"One patient I spoke with shared how alone she felt during her hospital stay. Family and friends were not allowed to visit. Hospital staff covered in protective equipment made her feel uncomfortable, uneasy and scared. She understood the reason for the precautions, but it had an emotional toll on her," she acknowledged.
"I provided this patient with supportive counseling and active listening. She asked me if I had family or friends who were diagnosed with COVID-19. At the time, I did not. Little did I know that a few weeks later, one of my family members would pass away from COVID-19," she went on to say.
"Many patients who are diagnosed and hospitalized with COVID-19 feel very alone during this journey. Tears came to my eyes as I thought about my cousin who passed away feeling alone.  We are asked to stay at home and practice social distancing. Don't think of it as being stuck at home, but instead as being safe at home. Reach out to family and friends in a creative and safe way. No one should go through this alone," she emphasized.
Staying Strong to Help Others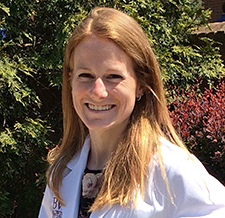 Lauren Redd '17, Maria Allen '19 and Ashley Haditsch '17 are among the first faces patients with COVID-19 see in the emergency departments of their hospitals. Akron, Ohio, resident Redd, a graduate of BW's Master of Medical Science program (MMS), is a physician assistant at Cleveland Clinic Akron General Hospital. Allen, of North Ridgeville, Ohio, is a registered nurse at Southwest General Hospital in Middleburg Heights, Ohio, and Parma, Ohio, resident Haditsch, also an MMS alumna, is a physician assistant at University Hospitals Cleveland Medical Center.
"I feel incredibly blessed to have this challenging opportunity to help during the pandemic," said Redd. "It is a daily challenge and can be difficult to adapt to the constant changes. I feel grateful I am able to be there for support and encouragement for patients who are fearful and scared. As health care providers, we have to be especially strong to take care of those in need. The hours, days and weeks may seem long, but we are called to help and, ultimately, that is what we do every single day."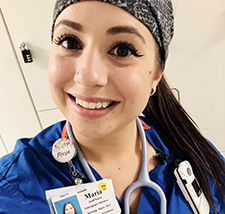 Like Redd, Allen is a comforting face to patients worried about the pandemic. "I am excited to be able to help in any way I can and am thankful I finished BW's ABSN program when I did. It is certainly overwhelming as a new grad to start in the emergency department, let alone in the midst of a pandemic," she admitted. "There is just so much we do not yet know about the current situation. Information changes daily. I'm thankful for the support of my co-workers and the community during this time."
Being on the front line of screening and testing of potential COVID-19 patients keeps Haditsch constantly busy. But she doesn't miss any opportunity to praise each person who contributes to Northeast Ohio's success in managing the COVID-19 pandemic.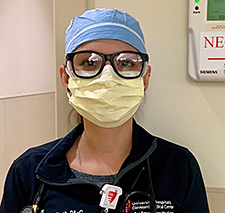 "From medical professionals, first responders, pharmacists, environmental services personnel, dietary staff and secretaries to those persons who continue to go to their essential jobs to sustain a somewhat 'normal life' for individuals doing their part just by staying home — you can't understand how much of a difference you make just by abiding by the recommendations," she emphasized. "In the ER, we are able to devote our time to very sick patients because YOU are flattening the curve!"
Seeing the Best in People
As a respiratory therapy (RT) clinical supervisor with The MetroHealth System, Kathleen Zink has both a big-picture view of RT as well as the day-to-day perspective that comes from direct hands-on work with hospital patients.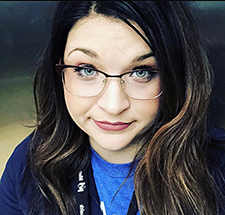 "As disruptive as this pandemic has been on everyone's life, it has also brought out the best in people," believes the 2020 MPH graduate from Bay Village, Ohio. "I have received calls and messages from people in all aspects of my life asking what they can do to help my staff and me.
"I have neighbors telling me they have been keeping an eye on my house because I am working long, odd hours. Masks and eye protection have been sent to me by those who found them in their homes and offices. These things are not just happening to me, but also to many other friends who are in health care. Our jobs are trying, difficult and, at times, frightening. But knowing there are people who support us makes it all a little easier," she said appreciatively.