BW alumnus awarded Fulbright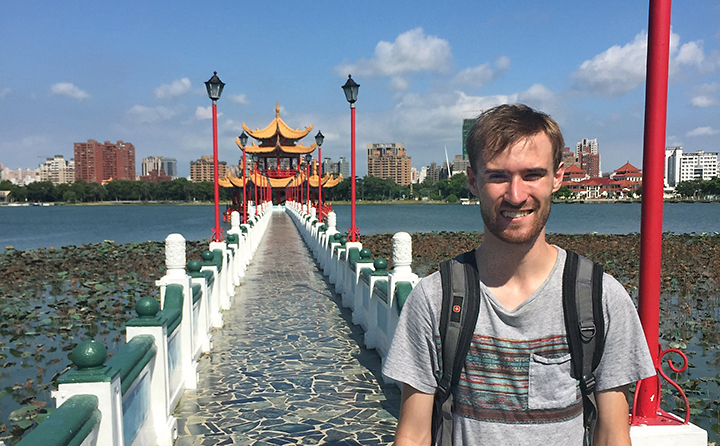 Call it Fú, the Chinese term for good fortune, that William Lekan '19 is headed to Taiwan this summer as a Fulbright award recipient.
The 22-year-old psychology and philosophy major joins an elite group of individuals who went through a highly competitive process to secure the coveted grant from the U.S. Bureau of Educational and Cultural Affairs. Named a Fulbright English Teaching Assistant, Lekan is among 23 percent of applicants who received funding this year to represent the U.S. oversees.
As part of his 11-month appointment, Lekan will live and teach English to middle school students on the Taiwanese island of Kinmen and engage in community service projects with the Buddhist organization Tsu Chi. The experience, he believes, will be invaluable to his goal of connecting with and better understanding people from other cultures and preparing for a doctoral program in psychology or philosophy.
A Bigger World Out There
Growing up in the small town of New Concord, Ohio, Lekan said he felt culturally stifled as a youth. For the adventure-minded, travel enthusiast, his hometown lacked the diversity he sought.
At BW, he immersed himself in liberal arts opportunities that enabled him to broaden his perspectives and experiences. He studied Buddhism and other Eastern religions, took courses in Asian cultures and Mandarin Chinese, and studied abroad in Taiwan. As his cultural awareness and proficiency grew, so did his motivation. But it wasn't without a few stumbles along the way.
"One of the first nights after my arrival in Taiwan two years ago, I was on a narrow street between flashing signs with Chinese characters. I realized that this wholly unique and complex city was nothing like what I had surmised from studying the language or reading about Taiwan," he explained. "Everywhere I turned were words I couldn't understand, let alone read, and I was considered illiterate to the majority of the people around me."
The experience, he recalled, was poignant in helping him realize that his learning had just begun.
Focused on a Fulbright
Once back on campus, Lekan began to consider ways he could return to Taiwan to further his learning. His participation in the BW Honors Program put him in regular contact with Dr. Amy Lebo, professor of philosophy, and Margaret Stiner, who not only manage the Honors Program, but also advise BW's Fulbright applicants.
In addition to Lekan, three other BW students applied for a Fulbright this year. Among them, Clara Harb '19, a biology and French double major from Cleveland, was named a semi-finalist. She, along with fellow Fulbright applicant Joseph Rini '19, a film studies major from Vermilion, Ohio, were awarded French Embassy Teaching Assistantships to teach English to French children.
"Having a Fulbright is a mark of distinction," emphasized Lebo, director of the Honors Program. "We believe BW will have many more Fulbright Scholars over the next few years."