Concussion recovery at forefront of BW research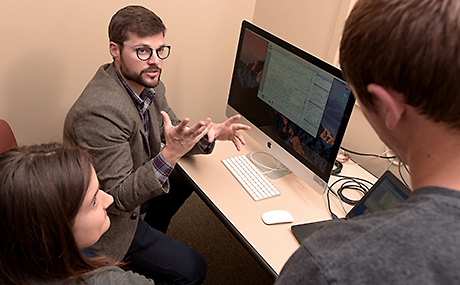 A cross-field research project uniting the departments of psychology, neuroscience and communication sciences and disorders was launched in January with the goal of gathering data that can be used to help improve recovery time for students and student-athletes with concussions.
Dr. Patrick Ledwidge, assistant professor of psychology and director of BW's Cognition, Brain, & Language Lab, is leading the project in conjunction with communication sciences and disorders professor Christa Jones. The project builds on Ledwidge's ongoing research with traumatic brain injury and Jones' involvement with an interdisciplinary concussion management program for students affected by concussion that utilizes the BW Speech Clinic.
Students Take Lead Roles
Students are an integral part of the project – both as researchers and research participants. Jones, who coordinates the involvement of the BW Speech Clinic in the concussion management plan and the work of its graduate student clinicians, will oversee the initial phase of the project that involves working with the concussed students.
Jones' students, in conjunction with the university's athletics program, will conduct assessments and treatment plans so that concussed students and student-athletes may quickly return to their regular academic and athletic schedules. In conjunction with these assessments, Ledwidge and his team will use electroencephalography (EEG) to track patients' changes in brain activity during their concussion recovery. Jones and Ledwidge intend for their collaborative research to have wide-sweeping impacts on how clinicians and practitioners manage and treat concussions.
Research with International Implications
"Concussion and traumatic brain injury have always been areas of primary interest for me," said Jones. "This research is important for the health of our student-athletes as well as at the national and international level, where concussion treatment is an ongoing discussion."
Ledwidge's published research largely focuses on the impact of concussions on the brain with the ultimate goal of improving the health and wellness of concussed students and student-athletes. "We know that the brain changes after a concussion. However, we know very little about how these changes manifest in our students' clinical recovery."
"This collaboration focuses on how concussions impact our abilities to think and communicate — elements foundational to our students' success. As we begin to better understand the general cognitive and psycholinguistic mechanisms that support communication, we can then start to make recommendations for treatments that can produce the most effective outcomes," he believes.