BW Digital Marketing Clinic students give and gain an upper hand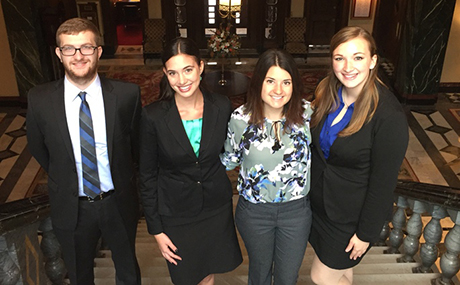 Students at BW are getting an opportunity of a lifetime through the university's growing Digital Marketing Clinic. The DMC, recently featured in Cleveland Magazine, allows students to gain paid, real-world experience working with local clients.
The experiential learning program matches teams of talented students with local small businesses, startups and nonprofit organizations. It is one of BW's finest examples of creating opportunities for students.
Under the direction of School of Business faculty, students develop and deliver paid, earned and owned media strategies that involve tactics such as search engine optimization, content marketing, social media marketing and more.
Satisfied clients
Since 2016, the DMC has worked with about 30 paying clients across a wide range of industries including financial services, hospitality, healthcare, cultural arts, law enforcement and retail. Clients are based throughout Northeast Ohio.
Mallise Sinito '88, president of the Millennia Hospitality Group, turned to the DMC for a social media strategy as she opened her sumptuous, landmark Cleveland restaurant, the Marble Room, in 2017.
"The Digital Marketing Clinic sent me a group of great students — all seniors. They analyzed the market for me and my competition and put together a step-by-step program," Sinito told Cleveland Magazine. "They set me on my journey and educated me."
Career-launching experience
DMC director and marketing faculty member Tim Marshall says the student agency hires undergraduates majoring in a variety of disciplines from marketing, digital design and computer science to finance and public relations with the goal of creating "a super team for each client."
Teams consist of four to five students, depending on a client's unique needs. Each student leads a specific part of the project, such as social media content plan or email marketing launch. Teams are led by student account executives who manage projects and engage with clients. The DMC employs 20-24 students each semester.
In addition to serving on a client team, DMC students also conduct training workshops for local businesses, members of the Berea Chamber of Commerce and campus departments.
DMC experience continues to open career doors after graduation, too. One of the agencies they have been working with in recent years is SyncShow in Rocky River, Ohio. In the past year, SyncShow has hired three alumni who were involved in the DMC as a result of their outstanding work. The agency, which specializes in digital marketing for the manufacturing industry, also hired a current DMC student for an important video marketing internship.
Other agencies that have worked with the DMC are Hey Now! Media, a marketing agency in downtown Cleveland, and Jennasis and Associates, founded by a BW grad who hired five DMC grads in the spring of 2018 alone.
The growth of the DMC also led to development of the new digital marketing major at BW. And, as a result of the Cleveland Magazine spotlight, Marshall says a number of new clients will be added to the DMC portfolio.