'Kinky Boots' rides thigh-high at BW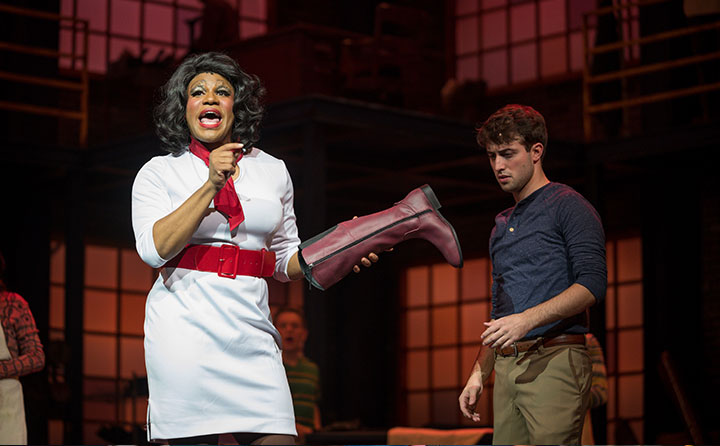 BW's first-ever college production of "Kinky Boots" wrapped up a two-week run riding as high as a pair of thigh-high stilettos.
A happening dubbed #BootsatBW on social media, the academic premiere drew applause from the show's Broadway producer, rave critical reviews, a BW music theatre homecoming and numerous opportunities to affirm and lead on the issue of inclusion.
Broadway and NE Ohio Raves
Jerry Mitchell, director and choreographer of Broadway's 2013 best musical, flew in to take in the show at BW's Kleist Center for Art & Drama. He told The Plain Dealer/cleveland.com that BW's rendition, directed by Victoria Bussert, was "fantastic," calling out the "brilliant job" of capturing the heart of the story.
Cleveland theatre critics also praised the show and the cast with Broadway World dubbing the coproduction of the music theatre program and the department of theatre and dance "spectacular," Cool Cleveland calling it an "outstanding delight that matches Broadway productions" and LandofCleve noting knockout performances by "phenomenal future stars."
Stars in the Audience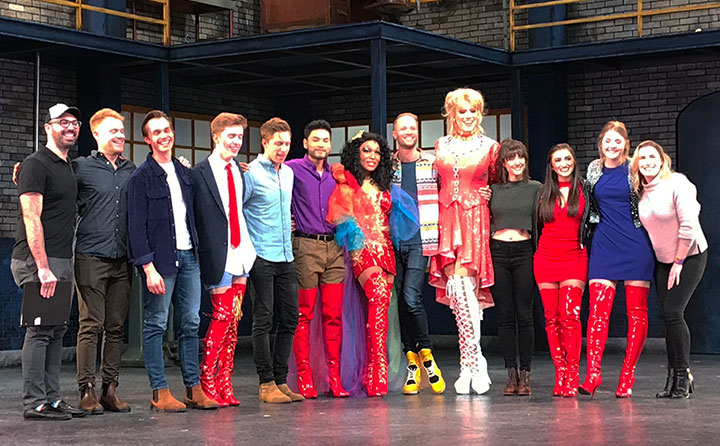 Those BW stars of the future performed the final Saturday show with some current music theatre stars in the audience.
Five of the six BW music theater grads who have appeared in the Broadway and national tours of "Kinky Boots," including Kyle Post, who played the Union Jack boot-wearing Angel for the entire run on the Great White Way, returned to BW for a special celebration.
Check out Conversation Magazine to read all about BW's national cast connection to "Kinky Boots," the show's journey from Broadway to its collegiate premiere at BW, the costume department's design of the lavish boots strapped on by the cast, and the creative approach BW took to leverage themes of diversity and inclusion, with BW arts management students leading a range of events to fuel dialogue and affirmation at BW and beyond.
You'll also find a sneak peek at what's next for BW Music Theatre, including the world premiere of the student-written "Freedom Summer," taking the stage at Playhouse Square April 3-5, 2020.