Campus fitness program receives national recognition in first year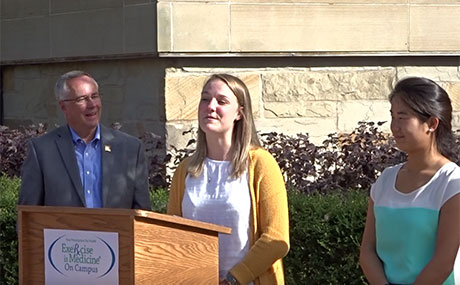 In its first year at Baldwin Wallace, Exercise is Medicine on Campus (EIM-OC) has already been recognized with national bronze-level status. The program was launched last fall by Dr. Megan Frank and students Athena Ridgley '18, a pre-physical therapy and exercise science major, and Lily Pattyn '19, an exercise science and health coaching and health promotion major.
EIM-OC is a national initiative for promoting exercise and physical activity as a sign of health across college campuses. Campuses are encouraged to provide students with opportunities to develop good fitness habits through special events and by integrating movement as a part of daily campus culture.
New initiative
During the fall 2016 semester, Frank mentioned the EIM-OC initiative and her desire to bring it to life on BW's campus during a class. Ridgley "came up right after class and wanted to be involved," said Frank.
That spring the newly formed BW leadership team registered the campus with EIM-OC and planned how to bring the initiative to BW's campus. The program was launched with a Presidential Proclamation by President Robert Helmer in the fall of 2017.
"We as a university are taking the steps to provide more opportunities to our students so that they can develop proper physical activity habits to last a lifetime," said Ridgley.
National recognition
Based on the level of engagement and activities hosted on campus, schools can be awarded gold, silver or bronze status through the EIM-OC recognition program. After a successful first year, BW has earned bronze status, marking an excellent start for a growing program.
"I'm extremely proud of what our EIM-OC team accomplished in our first year with the initiative on campus," shared Pattyn. "I can't wait to see how the initiative will grow next year."