Professor and student receive statewide community service awards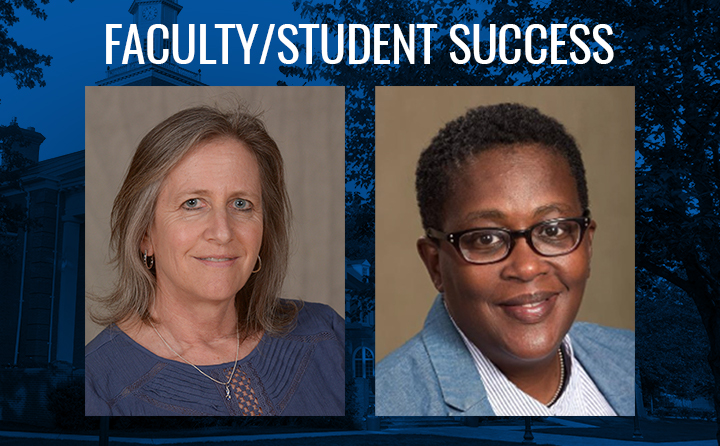 A BW professor's efforts to promote campus service-learning and a student's quest to address food insecurity have garnered statewide recognition.
Dr. Lisa Green, a professor of psychology in BW's School of Social Sciences, and Wyndi Moore '19 were 2018 recipients of statewide community service awards through Ohio Campus Compact (OCC).
Faculty service
Green received the David Hoch Memorial Award for Service in Excellence, an award which is bestowed annually upon one or two faculty or staff members from an OCC member college or university. The award recognizes faculty and staff members who display wonderful leadership and devotion to promoting and expanding the community service mission of their campus.
Passion for service learning
Since 2003, Green has been finding ways to tie service-learning into the classes she teaches.
"I was thrilled with how the students' experiences in the community organizations brought the course material to life," Green said in the official award announcement of her early classes with service-learning components. "The community partners were appreciative of the service provided, and I continue to work with many of the same organizations to this day."
Green also helped launch the Jacket Philanthropy Program (JPP) on campus in 2010. This program gives students the opportunity to learn grant writing and work with nonprofits in addition to helping secure funding for different organizations, thus benefiting both the students and the community partners they work with.
Student outreach
Moore, a sociology major, received the Charles J. Ping Student Service Award, which honors students for their leadership and contributions to community outreach both on and off campus.
Moore has led a three-phase project called A Seat at the Table, which focuses on studying, analyzing and finding solutions to help with food insecurity on BW's campus.
"I noticed the rise of food insecurity, which is the lack of reliable access to nutritious food, during my own experience as a student," said Moore in an essay tied to the award.
The Plate Project
The first phase of the project was implemented during the 2017 spring semester. This phase, called The Plate Project, involved collecting stories revolving around food insecurity from students, faculty and staff across campus.
The second phase of the project was carried out during the 2017 fall semester. This phase involved a sociology class doing a study on food insecurity at BW in order to provide statistics related to the topic. The results show that food insecurity has affected 27 percent of BW students.
Using these results, the third phase will be focused on finding and implementing potential solutions to help combat food insecurity at BW.
"This work has had a huge impact on the Baldwin Wallace community and on me," Moore says. "The process has stretched me and empowered my peers to believe in the power of collaboration."