Grad rocks Cleveland with music festival celebrating women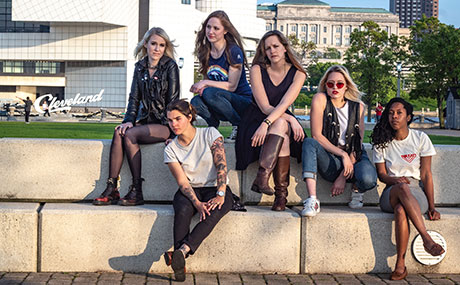 With musical talent and a desire to help women in the Cleveland community, Alison Tomin '10 is making waves both on and off the stage with the second annual "Women Rock CLE" music festival.
An event started by Tomin and her bandmate Josh Collins '08 last year, the festival raises money for Laura's Home Women's Crisis Center while also shining a spotlight on local female-fronted bands.
Women Rock CLE
Since the inaugural event last year, "Women Rock CLE" has grown exponentially. This year, the event will be held at The House of Blues and will feature five female-fronted bands, including Tomin's own band, AJ & The Woods. Both live and silent auctions will be held, featuring items donated from local companies and organizations such as the Cleveland Indians, Market Garden Brewery, Cleveland Whiskey, Brite Winter and CLE Clothing Company.
Two dollars of every ticket purchased and the full proceeds from the auctions will be donated to Laura's Home, which offers services to help women and children in crisis achieve self-sufficiency and stability.
"Josh and I started the event last year in hopes of elevating the women in the local music scene as well as raising money for an organization helping women in our community," Tomin said of the festival. "We are both very passionate about the cause and thrilled with the growth in just one year."
Boosted by BW
An arts management and business administration major with a minor in music, Tomin received invaluable preparation for her career during her time at BW. From learning how to run a silent auction to real-world event marketing through an internship with the Cleveland Museum of Art, Tomin's experiences as a student helped pave the way for the work she does today.
"My experience at BW, especially in the arts management program, has without a doubt given me the tools I need to succeed as a professional musician," said Tomin.
Tomin is especially grateful for the support and training she received from arts management program director Bryan Bowser. "He truly is training a new generation of artists to be innovative, entrepreneurial and a moving force in society," Tomin shared. "I feel that I owe a good portion of my success to Bryan and BW."
"Women Rock CLE" will be held on Friday, July 6 at 6 p.m. Tickets are $10.