Music theatre alumnus is Broadway's new leading man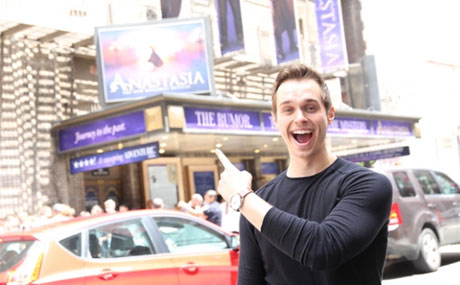 Baldwin Wallace music theatre graduate Zach Adkins '15 made his alma mater proud when he took over the leading role of Dmitry in Broadway's "Anastasia." Coming off the "Kinky Boots" national tour, Adkins was a member of the original cast of "Anastasia" when it opened on Broadway last spring, performing in the ensemble and understudying the role he now plays full time.
"I'm so grateful for the opportunity to step into this role after being part of this company for the past year," said Adkins in an exclusive statement to Broadway.com. "I've learned so much from this cast and creative team, and getting to continue telling this important and timeless story every night is such a privilege."
A journey to the past
"Anastasia the Musical" is based off the cherished animated feature from the '90s. The story centers on Anya, a young Russian woman who loses her memory, as she journeys to Paris in an attempt to discover the mystery of her past – accompanied by Adkins' character.
A Yellow Jacket first
During his time at BW, Adkins took advantage of the music theatre program's annual collaborations with the Beck Center for the Arts and Playhouse Square, starring in "Spring Awakening" and "Murder Ballad," respectively. Additionally, Adkins was directed by BW music theatre director Victoria Bussert in the Idaho Shakespeare Festival/Great Lakes Theater production of "Sweeney Todd."