Revitalized Exponent wins recognition as BW student journalism thrives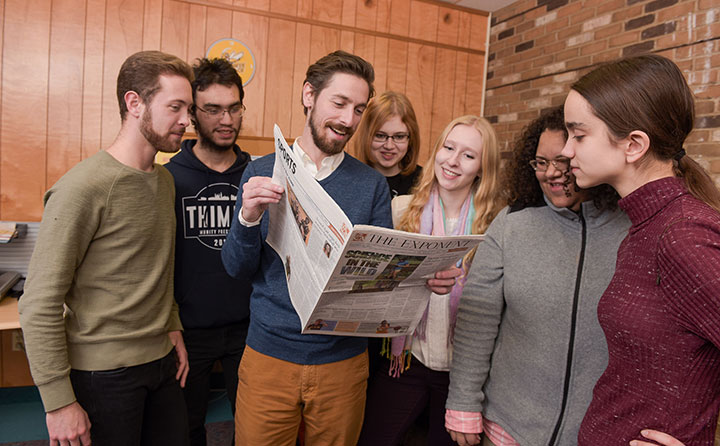 While the business of newsgathering and trust in media face major challenges in the U.S. today, the value and practice of student-run journalism is flourishing anew at BW, with just-announced award recognition from the Society of Professional Journalists (SPJ) to prove it.
Some 50 students have signed up for journalism classes or co-curricular participation in the venerable campus newspaper, The Exponent, since the arrival of Dr. Brandon Szuminsky to the communications arts and sciences faculty in the fall.
"Students are excited to be part of something bigger, to have a voice and to shine a light," said Szuminsky. "As the old saying goes, 'journalism is the first rough draft of history' and The Exponent has been doing just that at BW since 1913."
Transferable skills for all majors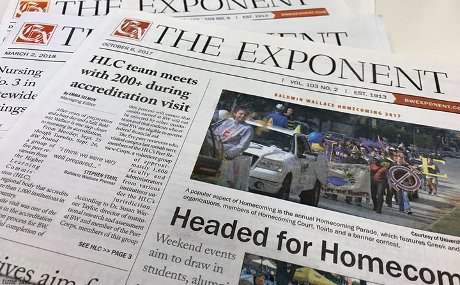 "I see journalism as providing a useful set of transferable skills," added Szuminsky. "Critical thinking, teamwork, written and oral communication, research, and meeting deadlines are all developed in the newsgathering and storytelling processes. They are universal skills that serve a scientist, a business manager, a Conservatory performer or a future journalist."
In fact, current student writers and editors hail from a variety of disciplines; the current executive editor, Drew Boxler '18, is a biology and English double major. After joining the Exponent staff when it was an independent student organization, "falling in love with journalism" and declaring English as a second major, it occurred to Boxler that scientists, who compete for funding and report findings to the public, could benefit from journalism skills.
"I did not see many students in the sciences dedicating their time to the construction of clear and succinct verbal communication strategies," he observes. "Instead, we were progressing into the trenches of our respective disciplines and becoming further separated from the general public."
SPJ recognition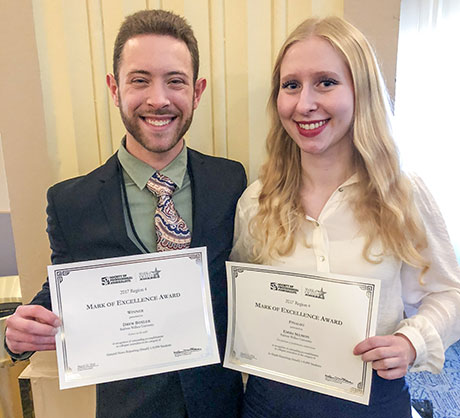 Although The Exponent staff is in the early stages of building up the quality of the paper under Szuminsky's tutelage, Boxler and senior editor, Emma Selmon '19, a music performance major, were honored at this year's SPJ Mark of Excellence Awards, among the most prestigious in collegiate journalism.
Competing in SPJ Region 4, which includes Ohio, Michigan, West Virginia and Western Pennsylvania, Boxler won first place for General News Reporting and Selmon was honored as a finalist in the In-Depth Reporting category.
Boxler is quick to credit the "expert guidance" of Szuminsky, who came to BW from Waynesburg University where he guided student journalists to more than three dozen regional, state and national journalism awards, including a national SPJ award for in-depth reporting of the opioid crisis in southwestern Pennsylvania.
Innovation in journalism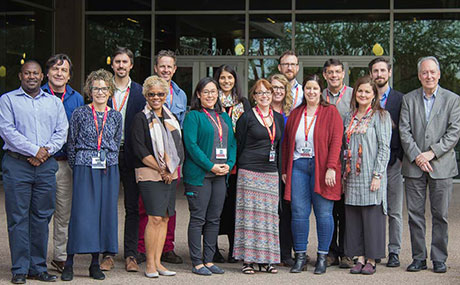 Along with quality, Szuminsky has students thinking about innovation after returning from a fellowship to the 2018 Scripps Howard Journalism Entrepreneurship Institute at the Walter Cronkite School of Journalism and Mass Communication at Arizona State University.
A select group of 13 fellows, competitively chosen from journalism educators in the U.S. and abroad, spent a week wrestling with entrepreneurial approaches to teaching and working in news.
"Recognizing that the field needs innovation to maintain and rebuild relevance and trust, and to work financially, we looked at ways to add entrepreneurial thinking to our classes," Szuminsky said. "If our students want the future of journalism to serve our communities and our country, they need to play a role in creating something the audience wants and needs."
Bright future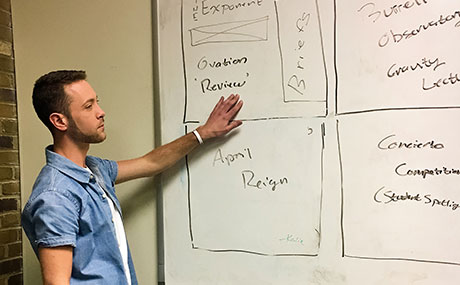 Evidence that the BW community is embracing the meatier, more regularly-published newspaper is evident in how quickly campus newspaper racks run out with each fresh, biweekly delivery.
Earning SPJ recognition for BW's first entries in years is another sign that student journalism thrives. Boxler says, "I believe these recognitions serve as a glimpse into a promising future for The Exponent and future writers that may grace the halls of BW."