BW alumni and students team up with women's football team to break barriers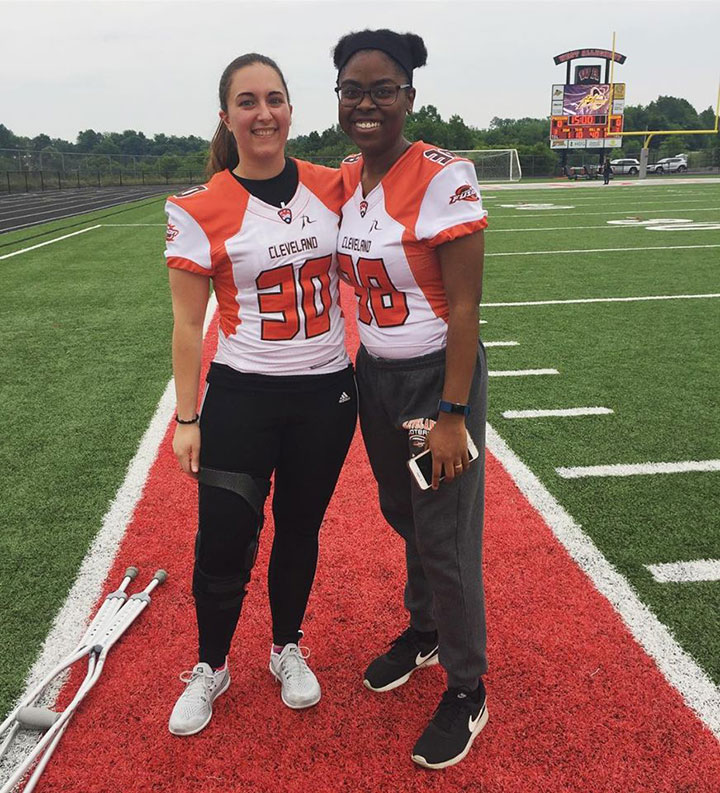 The century-old American sport of football is one with a rich history dominated by male participants. While men hold the popular majority in the sport, the Cleveland Fusion, a women's professional tackle football team, is attempting to tear down those historical social constructs, with the help of a number of Baldwin Wallace grads and students.
The Fusion competes in the Women's Football Alliance (WFA), a league with over 60 teams nationwide, offering one of the highest levels of competition for women in American football.
BW grads Jená Campbell '16 of Cleveland and Elise Bigley '16, originally from McMurray, Pennsylvania, tried out for the team shortly after they graduated and made it. Melanie Dixon Jones '17 soon followed.
Breaking barriers to play
Bigley, who majored in film studies and international affairs at BW, joined the Fusion after being around football her whole life.
"Like many other women, as a kid I was reluctantly accepted playing football at recess and at football camps," Bigley says. "As I got older, I was discouraged from playing and pushed to the sidelines as a water girl. I played sports throughout high school but playing football beyond powderpuff never seemed like an option until I found the Fusion in 2017."
Now in off-season fall and winter conditioning, the Fusion plays an 8-game, April through June regular season schedule with playoffs extending through July.
Persevering on and off the field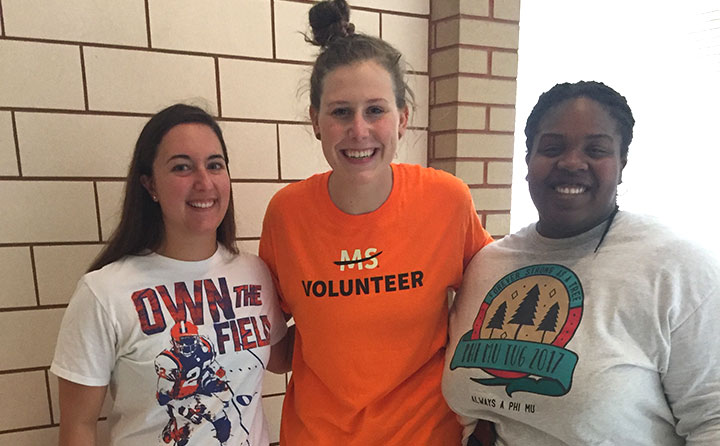 Playing year-round tackle football is not without physical challenges.
After a season-ending injury in February of 2018, Bigley decided to redirect her efforts to amplifying the team's marketing initiatives with her current position as the Fusion's director of marketing communications. For that role, she draws on skills from her "day job" as a digital marketing specialist with Tremco Inc.
"For most of us, I think injury is a risk we are willing to take to get to play a sport we love and prove to ourselves and others that we can do what society has told us our whole lives we can't," Bigley notes.
Creating internship opportunities
In her first season, Campbell also suffered an injury, tearing her ACL in an unfortunate fall. "Although the season did not go the way I intended it to, it brought me to a higher level of determination that I may not have reached without my injury."
While she's recovering, Campbell is helping to build a new college internship program for the team, one that is benefiting BW students.
Lake Lander '18 of Dubois, Pennsylvania, and Evan Walker '20 of Valley City, Ohio, both BW sport management majors, are among the Fusion's first interns.
Lander, who is preparing to graduate from BW in December believes the internship is giving him the experience he needs to be prepared for a career in sports marketing.
Walker is tasked with marketing outreach to promote the team and says that the BW faculty's expertise in the sport management field has helped him to create a great network and develop the necessary skills for the industry.
Taking initiative
Bigley says the shared BW background has instilled "outside the box" thinking and determination that attracted the students to the Fusion.

"I found that BW takes the approach that if you want opportunities, it is up to you to take the initiative to get them," Bigley says. "That philosophy has proven true outside of college, and by reaching out to organizations and showing my talents, I have been able to make myself a resource to organizations while learning and growing in the process."
With the goal of taking down the social constructs around the sport of football, Bigley and fellow Yellow Jackets aim to reshape the way we think about the game forever.
Interested players, interns and volunteers are encouraged to contact the Cleveland Fusion for more information on getting involved by emailing outreach@clevelandfusion.com. Stay up to date on the team's 2019 season at clevelandfusion.com.