Biology majors branch out into field research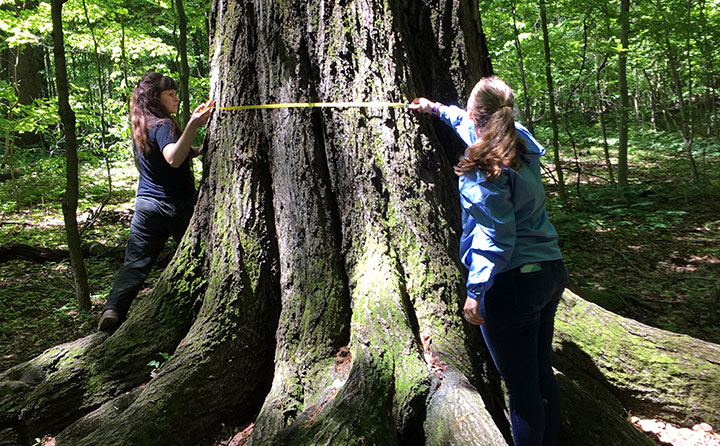 Among the thousands of picnickers and athletes the Cleveland Metroparks play host to each year, this past summer saw the addition of two industrious sophomore researchers from Baldwin Wallace.
Under the tutelage of Dr. Kathryn (Katie) Flinn, biology majors Elisha Bly '21 and Chloe Dickinson '21 examined tree community changes in an old-growth beech-maple-hemlock forest in the North Chagrin Reservation.
The team presented their research findings at the Cleveland Botanical Garden Holden Forests and Gardens S.E.A.R.C.H. Undergraduate Research Symposium and co-authored a paper with Flinn. The paper received excellent critical reviews and is currently in revision at The Journal of the Torrey Botanical Society.
Growing career research skills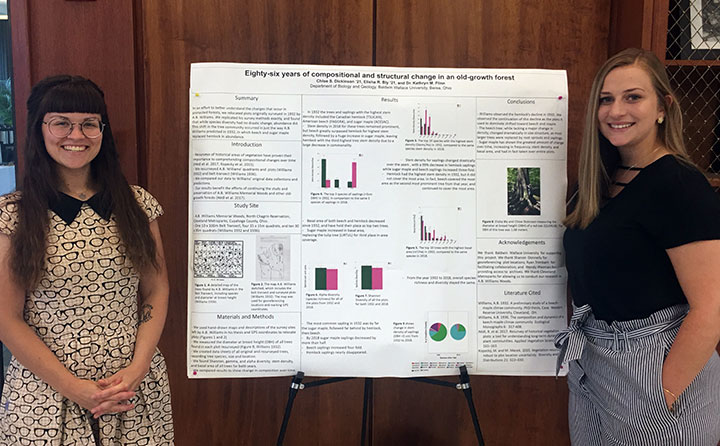 Bly and Dickinson both found their participation in BW's new summer STEM faculty-student collaborative scholarship program to be incredibly enriching.

Bly, who has set her sights on a career with the EPA or NASA, credits the experience with helping her to discover a future professional focus on research. "I learned field and analysis skills in a new environment," she said. "It was amazing to work with Dr. Flinn on this project. She never let us give up and pushed us to do much of the analysis on our own. It was a great learning experience."
Presenting at the S.E.A.R.C.H. Symposium and co-authoring a paper with Flinn and her classmate were also highlights of Bly's STEM internship. "I feel 100 percent more prepared for my future career as a result of the work I was able to do," she said.
Advice to stretch
Dickinson, who plans to work in the field of wildlife rehabilitation, found great value in learning how to collect and analyze data, develop a hypothesis and arrive at a well-founded conclusion. The skills she acquired apply across all scientific disciplines and will, she says, serve her well in her future work.

Dickinson encourages other students to engage in internships and other real-life experiences outside the classroom. "Don't be afraid to reach beyond what you believe your abilities to be," she said. "You may feel you aren't qualified for some of the opportunities presented, but you never know until you try. You could be missing out on an incredible experience."