Cleveland Indians broadcaster Matt Underwood '90 to speak at commencement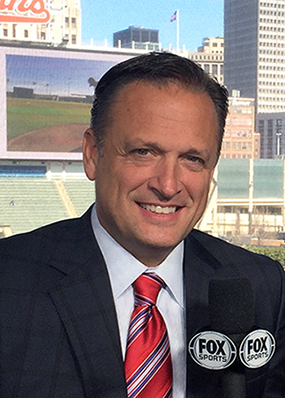 Having just completed his 19th season as a broadcaster for the Cleveland Indians, Matt Underwood '90 is being welcomed back to his alma mater as keynote speaker for the Baldwin Wallace University Fall Commencement ceremony on Dec. 8, 2 p.m.
The celebratory event, which will be held in the Lou Higgins Center's Ursprung Gymnasium, will recognize more than 300 undergraduate and graduate students.
Broadcasting interest began at BW
A familiar face to the Baldwin Wallace community, Underwood majored in business administration, but soon found his talents and career interest led him to broadcasting. He worked at the university radio station WBWC, 88.3 FM, as both a disc jockey and a sportscaster.
The Ashland native began his career with local ABC affiliate WEWS-TV5, where he spent 17 years and served as the station's sports director from 1997-1999 before joining the Cleveland Indians. In 2019, he will mark his 13th year in the TV booth calling play-by-play with partner Rick Manning, a former Indians center fielder. Previously, Underwood spent seven seasons (2000-06) as a member of the Cleveland Indians radio broadcast team.
During the off season, he calls play-by-play action for NCAA Division I football as well as for high school football state championship games. The Emmy Award-winning broadcaster also wrote, narrated and produced a documentary on former Cleveland pitcher Addie Joss, the first of only two Cleveland pitchers to throw a perfect game.
Community-focused communicator
Underwood is a member of both the Baldwin Wallace Radio Hall of Fame and Ashland County Sports Hall of Fame. He also is the recipient of a 2013 Alumni Merit Award from BW and the Distinguished Alumni Award from Ashland High School.
Over the years, Underwood has raised money for several charities, including Team Focus, the Ashland County Cancer Association and the Sophia Underwood Memorial Scholarship Fund. He and Manning also have helped to raise more than $50,000 for The Gathering Place, an organization that supports, educates and empowers individuals and families touched by cancer.
Next Generation of YJ4L
Underwood currently resides in Avon Lake with his wife, Shelley, who at one time owned and operated Johnny Mango, a popular restaurant in Ohio City, and two children, Max and Devan, who are a sophomore at BW and high school senior, respectively.