Physics grad studies brain-controlled robotic prosthetics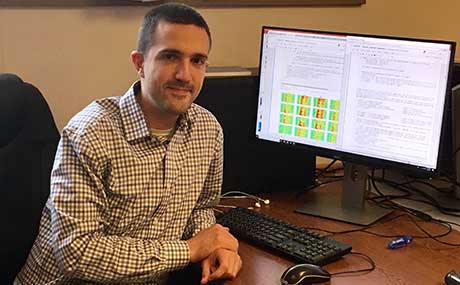 Daniel Candrea '14 learned to wrestle with big problems as a BW physics major. That experience prepared him for the amazing challenges he faced as a research assistant at Johns Hopkins Hospital. Together with his professional colleagues, Candrea worked to develop a mechanism by which individuals with physical limitations may one day be able to use the neural activity in their brains to control robotic artificial limbs.

After graduating from BW, Candrea went on to earn his M.S. in biomedical engineering at Duke University. He continued his career with his research position at Johns Hopkins where he also began his studies as a Ph.D. candidate this fall.
Looking back, Candrea reflects with fondness on the transformative effect BW had on his career path. He believes the quality of education he received, along with the appreciation for hard work and the academic excitement instilled in him, has been integral to his success. "It was at BW that I truly became motivated to learn and was inspired by many disciplines," he said.
"Dr. Ed Meyer, chair of the physics department, influenced me most throughout my undergraduate studies. Using physics as the medium, I learned from Dr. Meyer that solving any problem or achieving any worthwhile goal requires persistence and determination. Because of my experience in his classroom, I can rise to any challenge I am confronted with as I can methodologically approach it, struggle with it and resolve it," Candrea said.
Originally planning on medical school following graduation, Candrea discovered his true passion was neuroscience. His studies as an undergraduate at BW trained him to ask pointed questions, engage in healthy skepticism, and work closely and efficiently with his colleagues, all of which established a firm foundation for his change in career focus and the success he is currently enjoying in his postgraduate studies.
When asked about his advice to current BW students, Candrea answered without hesitation. "Talk to your professors, because you can. They make themselves available and are deeply invested in your success."