Education grad finds second career at BW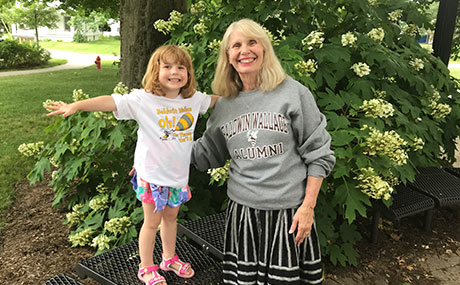 From the beginning, kindergarten educator Margaret "Maggie" Eaton was enthusiastic about BW, completing both her Bachelor of Science in Education '68 and Master of Arts in Education '79 here.
After a year of retirement from a 40-year teaching career, the Bay Village educator and two-time BW graduate was determined to find her way back to her alma mater. In 2011, with the help of BW Career Services' counselor Beth Ehrbar, Eaton found a fit within the BW School of Education and has continued to fuse her love for education with her passion for BW to form a second career.
Career counseling for second act
Eaton credits BW Career Services. "Because of Beth Ehrbar's guidance and mentoring, my dream was fulfilled ... I would not be currently at BW without her."
In Eaton's current role, she supervises field experience and clinical practice candidates and is an adjunct instructor in education, teaching phonics and spelling development this fall.
"It is so exciting to teach Baldwin Wallace students and to observe them incorporating critical thinking skills," she said. "It is truly fulfilling to engage students in discovering alternatives to teaching strategies to accommodate the academic, social and emotional needs of each student within the classroom."
BW family affair
For Eaton, BW is a family affair. She recently attended her 50th class reunion with her BW grad husband, Larry Eaton, and enjoys the company of her preschool granddaughter, Ella, who attends the preschool music education program on campus.
"I am so appreciative for the opportunity to be a part of the School of Education. I am accomplishing my dream. I truly feel I am giving back to Baldwin Wallace University in appreciation for all I received as a student."