BW students and alumna serve Cleveland through internships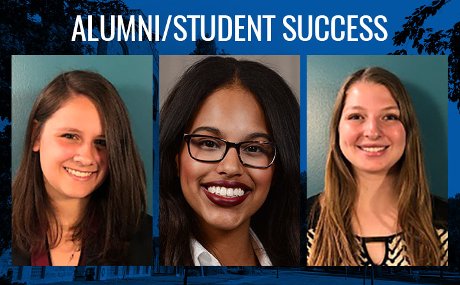 Two BW students and one recent alumna made this a "Summer of Purpose" by participating in The Cleveland Foundation Summer Internship Program. The competitive program, established in 1999, gives students and recent alumni the opportunity to pair up with a Cleveland-area nonprofit for an 11-week internship that is just as beneficial to them as budding community leaders as it is to the organizations they are partnered with.
Making a splash
Jordan Kerr '19, a psychology and public and nonprofit management major, helped coordinate "Summer Splash" programming on Cleveland's Public Square through her internship with Group Plan Commission. "Summer Splash" involves daily programming throughout the summer geared toward children and their parents or caregivers. The daily activities include pop-up story time, planting flower or vegetable pots and playing games, such as giant Twister or Jenga, among other activities.
"I wanted something that would challenge me, while also providing opportunities for me to network and learn," Kerr told the Cleveland Foundation about her decision to participate in the program. "Learning firsthand what the professional world is actually like, instead of just reading about it, [is] a really good experience."
Accessible art
English major Chloe Schaufele '19 worked as a development intern for Art House Inc. The nonprofit arts center strives to provide opportunities to make art accessible to the community. Schaufele was involved with grant writing and research, fundraising, marketing, communications and storytelling initiatives.
"This internship has really helped me to step outside my comfort zone. Normally I'm not very good at speaking up or reaching out to people, but because of the connections I'm making and the work I'm doing, I've found that I'm more comfortable opening up to people," Schaufele shared in a Cleveland Foundation blog.
Recent political science graduate Simone Malone '18 also participated in the summer internship program. Malone spent the summer working on a multifaceted salesforce management project as an intern with SPACES, a contemporary gallery for experimental artists.