Baldwin Wallace University
Jacket Link/BRIDGE Program
Email: diversity@bw.edu
Jacket Link: A Bridge to Student Success
Sunday, August 15, 2021 - Wednesday, August 18, 2021
Jacket Link/BRIDGE is a program designed to provide incoming first-year students with the necessary tools and resources needed to jumpstart their first-year experience.
Preceding the Week of Welcome (W.O.W.), students spend four days on campus connecting with mentors, getting familiar with campus resources and services, and learning strategies to successfully transition from high school to college. Beyond the summer portion of the program and throughout the fall and spring of the academic year, Jacket Link/BRIDGE aims to provide a welcoming and supportive community for students. Activities and resources with an emphasis on academic readiness, campus support, and social/cultural enrichment will be provided for students.
There was set to be a $100 registration fee for the summer portion of the Jacket Link/BRIDGE Program this year, but we are waiving it for all students due to COVID-19. All other expenses (i.e., meals, housing and cultural/social activities) will be covered by Baldwin Wallace University for the summer portion of the program.
If you are interested in applying to the Jacket Link/BRIDGE program, complete the short online application by Friday, July 2, 2021 at 11:30 p.m.
By participating in Jacket Link/Bridge during the summer and beyond, students will:
Move in early and get acquainted with the campus.
Receive assistance in the preparation and procedures for applying for BW campus student employment.
Receive a textbook voucher at the close of the summer portion of the program to be used toward the cost of one textbook or school supplies purchased in the BW Bookstore.
Receive a peer mentor who is a current BW student for the academic year.
Meet faculty, staff and peer mentors before classes begin.
Develop social connections with other students.
Get free BW apparel.
Gain an edge over other incoming freshman with early access and exposure to campus life and resources.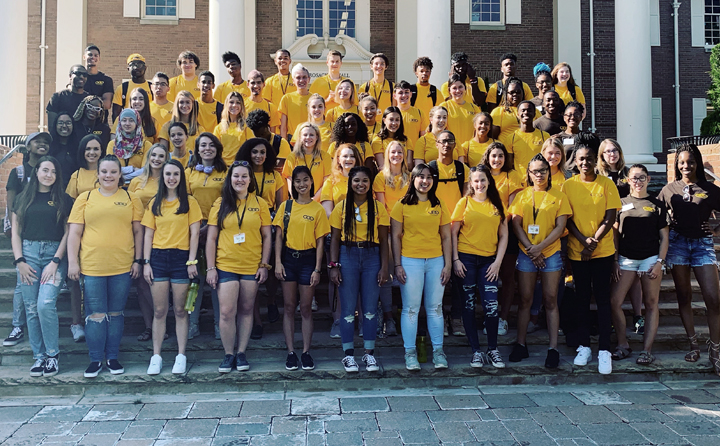 Parents and Families "BEE-LINE"
College can also be a huge transition for parents and families, which means that access to a village of supporters can make all of the difference. JLB families receive a mentor who is a BW faculty and staff member, called the BEE Line. This is a place for parents and families to find support as students enter their first year at Baldwin Wallace University.
The JLB program is here to offer support, advice, tips and information, because families deserve to remain informed of the college experience here at BW. The information provided will also enable families to assist students in taking advantage of new experiences, setting goals and moving toward becoming responsible citizens.
The "BEE-LINE" will work to keep families abreast of all services, important campus offerings and events. This resource will provide the information needed to assist students in using the available campus resources and to participate in meaningful activities in order to gain the most from their college experience.
We look forward to supporting students and their families during this transformational time in their lives.
Resources for Parents & Families
Suggested readings
Information on the "Bee-"Line mentors
Helpful Tip: Our students love to hear from home! Consider sending a package or letter to your student's campus post office box. And include extra goodies for your student's roommates and friends!