Orientation for First-Year Students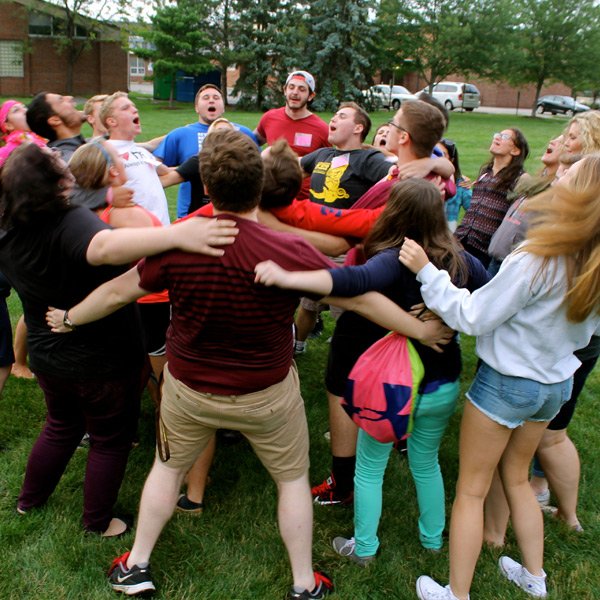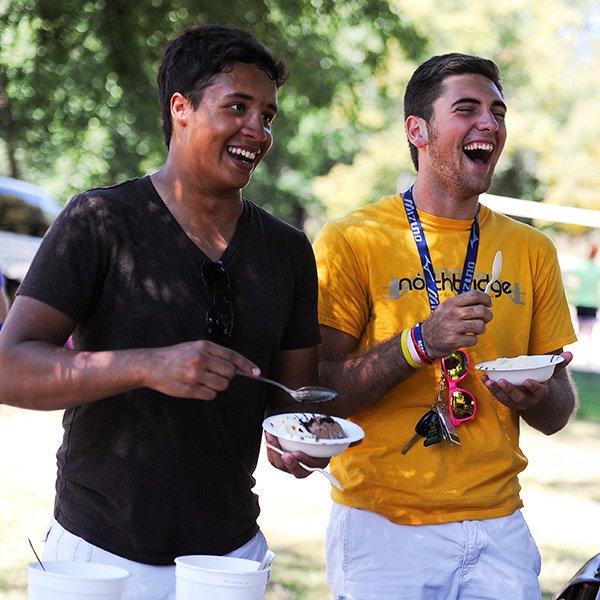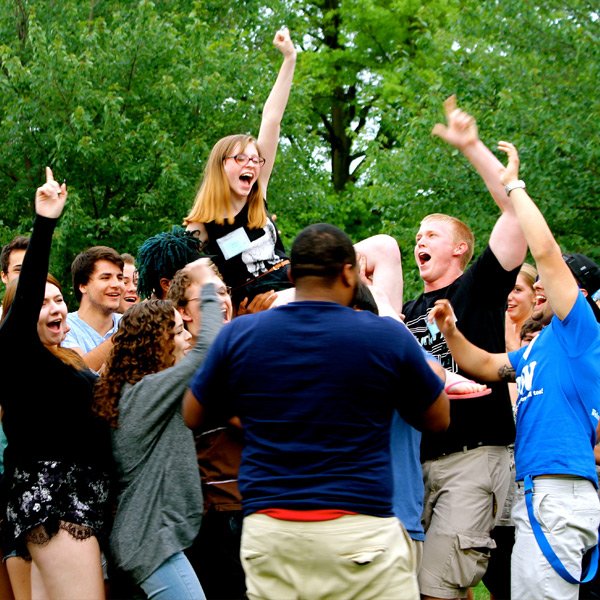 First-year students are those incoming students who will be starting their first semester of college in the fall of 2018.
Orientation is an overnight experience required for all students. Our orientation programs are a great way to get acclimated to campus, meet with a faculty advisor in your field of study, get to know your classmates and start your college career at BW off on the right foot. It's also a perfect opportunity for family members of a new Yellow Jacket student to learn more about the campus.
2018 Orientation Session Dates:
June 22-23 (Friday/Saturday)
July 9-10 (Monday/Tuesday)
July 12-13 (Thursday/Friday)
July 27-28 (Friday/Saturday)
The following is the student's schedule for Orientation. (Parents/family: view your schedule for orientation.)

Schedule is subject to change. Final schedule will be provided at check-in.

DAY ONE

8:00 A.M. – 9:15 A.M.: CHECK IN

Ernsthausen Hall (Residence Hall located on the corner of Tressel Street and Center Street)
Your first stop at Orientation is Ernsthausen Hall. You will be able to pick up a packet of helpful information, get keys to your room for the night, and get started on the right track for your Orientation experience. If you have parents or family members joining you, there is also information available for them to pick up including schedules, meal tickets, and more! 

After you check in at Ernsthausen:

Get your BW student ID (Jacket Express Card) at the Union (Strosacker Hall). 
Between 8:00 a.m. – 9:30 a.m.: Bonds Administration Building Open House at Bonds Hall

8:30 A.M. - 9:15 A.M.: STUDENT-ATHLETE MEET AND GREET

Bonds Hall
The athletic staff and coaches will welcome student-athletes (all seasons) and families to campus.

8:30 - 9:00 a.m. Football Players Uniform Fitting - Bonds Hall Fishbowl
8:45 - 9:00 a.m. Meet and Greet with the Coaches (all sports) - Bonds Hall Career Services Classroom

9:45 A.M.: WELCOME 

John Patrick Theatre / Kleist Art and Drama Center (located on Bagley Road next to Finnie Stadium)

10:30 A.M.: ACADEMIC PROGRAM AND SERVICES

John Patrick Theatre / Kleist Art and Drama Center (located on Bagley Road next to Finnie Stadium)
Students and families will be introduced to Baldwin Wallace's liberal arts and sciences foundation and learn about BW's Core Curriculum and academic programs.

10:45 a.m.

Liberal arts students

will move to the Allman Theatre in the Kleist Center for Art and Drama to continue the Academic Programs & Services presentation. 

Conservatory students will move to one of our second floor classrooms in the Kleist Center for Art and Drama to discuss the requirements for all new Music Conservatory students.

11:20 A.M.: GATHER IN COLOR GROUP

Outside Kleist Art and Drama Center
Please be on time to meet with your color group leaders, as you will be moving to various locations on campus for the next session.

11:25 A.M.: NAVIGATING TECHNOLOGY ON CAMPUS

Various campus computer labs
Your orientation leaders will introduce you to the technology side of BW, including exploring email, Blackboard, MyBW, the Virtual Desktop and more.

12:45 P.M. – 1:30 P.M.: LUNCH

Union Ballroom (Strosacker Hall)
Parents/family members will have already eaten lunch prior to this time period.

1:30 P.M. – 2:30 P.M.: COLOR GROUP TIME

2:30 P.M. – 3:00 P.M.: THE CHOICE IS YOURS: EXPLORING ROADBLOCKS TO SUCCESS 

Union Ballroom (Strosacker Hall)
Each day we make choices that contribute to our success or detract from it. This is a beginning conversation of what it means to make healthy and responsible choices and how Baldwin Wallace is committed to helping you as you begin college life.   

3:15 P.M. – 5:15 P.M.: BREAK OUT SESSIONS

Various Locations
Spend your afternoon in sessions geared towards your interests as a new BW student. Details about session offerings will be posted in May.

5:25 P.M.: MID-DAY WRAP UP WITH PARENTS AND FAMILIES

Union Ballroom (Strosacker Hall)

5:30 P.M.: GOODBYE TIME

Meet with your families one last time before saying "goodbye!" Be sure to plan a place to meet on day two in the morning.

5:30 P.M.: COLOR GROUP MEETING

Union Ballroom (Strosacker Hall)
Please be on time to meet with your color group leaders, as you will be moving to various locations on campus for the next session.

6:30 P.M. – 7:30 P.M.: NEW STUDENT COOKOUT

Carmel Lawn

7:45 P.M. – 9:30 P.M.: THE ULTIMATE BW EXPERIENCE 

Sandstone 3/Union (Strosacker Hall)
Awww Jackets! Find out what BW offers outside of the classroom through this highly interactive and motivational program designed to help you succeed as a BW student!

9:30 P.M. - 10:15 P.M.: COLOR GROUP MEETING

Various Locations in the Union (Strosacker Hall)
You will be dismissed by color groups to various locations in the Union for this session. Please be on time.

10:30 P.M. – 12:00 A.M.: SUMMER O'DANCE

Student Activities Center (SAC)
Got some dance moves? Show them off at the dance! Pizza and pop available. We will also have cornhole and a bonfire (weather permitting) at the Circle of Warmth.

DAY TWO

7:30 A.M. – 9:00 A.M.: BREAKFAST AVAILABLE

Union Ballroom (Strosacker Hall)

8:00 A.M. AND 8:45 A.M.:  COLLEGE STUDENT INVENTORY

Be sure to be on time for your appointment! Your time/location are listed on the back page of your Orientation booklet.

The college student inventory (CSI) is a 100-question survey completed by incoming first-year students. Students self-report on a series of statements indicating how closely they relate to the items. The items are associated with academic motivation, general coping skills, social motivation and receptivity to campus services. 

The primary goal of this pro-active instrument and our CSI process is to enhance already existing advising mechanisms in place by creating strong connections with students in their first term, engaging in reflective discussions from a strengths-based perspective and matching students to needed resources.

9:00 A.M. – 1:30 P.M.: ACADEMIC ADVISING APPOINTMENTS 

Locations around campus – Check with orientation leaders for directions.
Be sure to be on time for your appointment! Your time/location are listed on the back page of your orientation booklet.

9:00 A.M. – 11:30 A.M.: FINANCIAL AID STAFF AVAILABLE

Career Classroom/Bonds Hall
If you still have some questions that you would like answered, stop by and see one of our financial aid staff members. They will be available to answer your questions.

9:45 A.M. - 11:30 A.M.: VARIOUS INFORMATION SESSIONS

9:45 A.M. – 10:15 A.M.:  Study Abroad/Explorations Presentation

Sandstone 3/Union (Strosacker Hall)
There are several misconceptions about studying abroad, find out the reality for BW students in this presentation. 30% of BW graduates study abroad, it's more possible than you may think! Students earn college credit by studying in places such as Australia, Brazil, England, Ghana, Italy and Japan to name a few. Semester long studies and short term faculty led programs offer students once in a lifetime opportunities to see the world on a student's budget. The Explorations / Study Abroad Office assists students in planning their travel based on academic and personal interest.

10:20 A.M. – 10:40 A.M.: Commuter Services Presentation

Sandstone 1/Union (Strosacker Hall)
Do you commute to campus for class? Do you know where to find good parking spaces? Do you know where you can hang out in between classes? Do you want to know how to meet other commuters as well as resident students? The Office of Commuter Services has these answers and more. Come hear about our services, programs, leadership opportunities and great ways to get involved in campus life!


10:45 A.M. - 11:30 A.M.: Residence Life Presentation

Sandstone 3/Union (Strosacker Hall)
Are you ready to live on campus? Have you made all the preparations you need for your arrival? Have you thought about living with a roommate? We will answer your questions about your future living environment!

10:00 A.M. – 12:00 P.M.: RESOURCE FAIR

Lobby/Union (Strosacker Hall)
Welcome to our community at BW. This is your opportunity to get information from the many offices, departments and organizations that make up BW. Please take advantage of this opportunity to connect.

10:30am – 3:00PM: EVALUATION

Math & Computer Science Building/ 133 Computer lab

10:45 A.M. – 3:00 P.M.: CHECK OUT

Ernsthausen Hall (Residence Hall located on the corner of Tressel Street and Center Street)

PLEASE NOTE: Check out cannot begin until 10:45 a.m due to staff availability. Students have to attend their advising appointment and fill out an evaluation before checking out.

We ask that you bring the following:

Photo ID or driver's License
Overnight necessities: bed linens, blanket, pillow, towel, toiletries, etc.
Sweater or hoodie for air conditioned rooms
Your BW username and password
If you want to find a job on campus, you can fill out the paperwork now and bring it with you. Paperwork is available through the Student Employment Center.

Please check back in May for information regarding this exam.

Why take the test?

The Webcape placement test (please see test instructions below) is used to help gauge the proficiency of incoming BW students who have had previous language experience in French, German and Spanish to help place them in the appropriate course for their level. It is a short multiple-choice placement test which should take anywhere from 10 to 25 minutes to complete.

Is it mandatory?

Any incoming student who has previously taken classes in French, German or Spanish during high school is required to complete the test in order to register for a course in the corresponding language. Transfer students who have taken French, German or Spanish in high school and who have not yet taken a university-level course are also required to take the test. Any incoming students who want to take a language course with no prior background in that particular language are not required to take the test.

When can I take the exam?

The exam can be taken as soon as you receive your acceptance package with necessary login information. The test must be completed prior to arrival at BW for orientation. You should bring the score of your exam to your meeting with your advisor to register for the proper course. You should additionally fill out the foreign language placement survey.

When will I get my results?

You will receive your score as soon as the test is over. Upon completion, you are taken to a screen with your score. You are then encouraged to either print the screen out or save a picture of the screen digitally.

What do the results mean?

The placement test score is only one measure of your high school preparation in the language, though it is found to be highly accurate. Results will indicate if you should be placed in 101 (first semester), 102 (second semester), 201 (third semester), 202 or above (fourth semester). You should begin your study at the highest level you place. During the first week of classes you should speak to your instructor if you feel you are not placed in the most appropriate course.

| | | | |
| --- | --- | --- | --- |
| Course Level | French | German | Spanish |
| 101 | below 260 | below 292 | below 270 |
| 102 or 201 | 260-336 | 293-383 | 270-345 |
| 201 | 337-402 | 384-492 | 346-427 |
| 202, 221, 275 | above 402 | above 492 | above 427 |

101 is meant for true beginners and is most appropriate for students who have had no previous knowledge of the language. Students with up to 2 years of high school instruction may take this course, if their preparation is not sufficient to take 102 or 201. If other factors such as those listed above make you feel that you need to take 101, despite having had more than two years of previous experience, you should take the placement exam and contact the department of foreign languages and literatures for advice.

102 is most appropriate for students who have previous knowledge of the language such as that equivalent to the catalog course description of 101, but who still need an introduction to the topics listed in the catalog description of 102.

201 is most appropriate for students who have been introduced to and have some understanding of the basic grammar, but who now need to review and refine what they know. Typically, students with 3 or more years of high school instruction and those who have completed the 102 level enroll in 201. This course builds upon the foundation laid in the 101-102 sequence by providing an expansion of the 4 skills of reading, writing, speaking and listening.

202 or 221, 275 may be appropriate for students with more than 4 years of solid high school preparation, for those who have followed an advanced placement track and for students who might have spent a significant time abroad in a country where the language is spoken. Students who seek initial placement in foreign language courses above the 202 level must get special permission from the professor in the department who is responsible for that language or the chair of foreign languages.

Who can I contact with questions?

Contact Kyle Kuehn at kkuehn@bw.edu or (440) 826-2244. 

Foreign Language Placement Test Instructions

The following instructions are to guide the student in taking the Webcape placement exam for French, German or Spanish at Baldwin Wallace University.

Open a web browser (Google Chrome, Firefox, or Internet Explorer) and go to the Webcape placement exam. 
In the drop-down box, select Baldwin Wallace University and select "Go."
The next screen requires a password. The password is: password (all lowercase).
The placement test has three language options: French, German and Spanish. Please select the appropriate language from the drop-down box and click "Begin."
On the next screen, please fill out first name, last name, BW Student I.D. number and BW e-mail address.
After entering the requested information, click "Continue," not "Resume."
The first question is a practice question; complete it to continue to the actual test 

The actual test is all multiple-choice. Please read the instructions and passages carefully. Do not, however, spend too long on one question, as the test will time out. After about 10-20 minutes, the test will gauge your proficiency and direct you to a completion screen. Your score is displayed on this screen. Please print out a picture of the screen with the score. If no printer is available, please save the screen as either a .jpeg or .PDF file so you have it as a digital copy to print when a printer is available. Bring this score with you when you register for classes.

Important Note: A student may only take the placement test one time. Permission is needed from the foreign languages department to take the test again. Contact Kyle Kuehn at kkuehn@bw.edu.

Important Note: If your test is interrupted for any reason, please follow steps 1-5 again. When you get to step 6, click "Resume," not "Continue" only if your session was interrupted.

Is this test mandatory?

This test is NOT mandatory. The test should be taken in the following situations:

If you have been working on the preparatory materials sent to you in your Welcome Packet over the summer, you should take the test. If you earn a score of 80% or above, a faculty member will work with you to schedule an appropriate mathematics course for fall semester.
If you would like to challenge your CORE math placement for fall semester, you should take the test. Please note, however, that you are generally already placed in the correct math course based on SAT/ACT scores, and those who do not work on the preparatory materials over the summer are generally not successful with the challenge test.

The test should NOT be taken in the following situations:

If your mathematics SAT score is 520 or above and/or your mathematics ACT score is 22 or above, you should not take the placement test.
If you are already scheduled for a MTH course (MTH-135, MTH-136, MTH-137, MTH-140, MTH-141, MTH-161 or any other MTH course), you should not take the placement test.

When can I take this exam?

The test is only administered during the Week of Welcome on Friday, August 17, 2018, during the morning at either 8:30 a.m. or 10:30 a.m.

If you are a fall athlete, the test will be available Thursday, August 16, 2018 at 11:30 a.m. This testing time slot is only for fall athletes.

Students must report to the math and computer sciences building at 139 Tressel Street, where staff will direct them to their testing room. If you are not taking math until the spring semester, you may take the exam prior to spring semester.

How do I register for this exam?

Register for the math placement exam. You will need to sign up by August 14 in order to take the test for the fall.

Who do I contact for additional information?

Contact Brent Strunk at bstrunk@bw.edu or (440) 826-5944.

Baldwin Wallace University requires all first-year and transfer students to complete AlcoholEdu and Haven, two separate online courses provided by EverFi. This online education will empower you to make well-informed decisions about issues that affect your years at BW and beyond.

Failure to complete these required courses by August 24, 2018 will result in referral to the University's student conduct system and the application of alcohol policy sanctions, as outlined within the University Student Handbook. Please remember, you are required to complete AlcoholEdu and Haven. Read the following instructions carefully.

Registration Instructions

If you already have an EverFi Higher Education account, go to the EverFi login page, enter your login information, then enter registration code e8fb9bbb by clicking "add a course" in the top right corner of the dashboard.

The AlcoholEdu and Haven courses will not be available until July 1, 2018.

If you do not have an EverFi account, follow these instructions:

Go to EverFi login page and click "register." You will need one EverFi Higher Education Account to access the courses from your dashboard.
Under "student/learner," enter the registration code e8fb9bbb to create your EverFi account. Please register with your BW e-mail address only. Note: Please make sure to enter your e-mail address correctly, ending in @mail.bw.edu.

Note: When prompted, please enter your BW ID # (listed on your Jacket Express card) to receive credit for completion.

Complete part one of AlcoholEdu and Haven no later than August 24, 2018.
After 30-45 days you will receive an invitation to complete part two of AlcoholEdu and Haven which must be completed by November 16, 2018.

Training Tips

You will need internet access and audio capabilities.
To avoid technical issues, please use any major web browser (e.g., Firefox, Internet Explorer, Google Chrome) released within the previous two years.
You may take the course in multiple sittings.
The course may include surveys to help personalize your experience and measure participants' attitudes and behaviors. All survey responses are confidential; the university will only receive information about the incoming class as a whole and will never see individual answers.
Should you experience problems, technical support is available 24/7 and can be accessed from the "Help" link within the course.

If you have any questions about completing either course, please be sure to contact Bob Beyer, Associate Director of Residence Life/Student Conduct, at bbeyer@bw.edu or (440) 826-2114.

Q: How do I register for orientation?

A: Orientation registration happens online.  

STEP 1: Pay your deposit. This is done through the admission office.

STEP 2: The admission office will process your payment and send you the login information in the mail. Questions about this step can be directed to the admission office at (440) 826-2222 or to the student's specific admission counselor.

STEP 3: Login to WebExpress and fill out the forms. The confirmed orientation date will be listed in the same location within 4 business days.

See next steps for admitted students for login information and instructions.

Q: What time does orientation start on day one? Where do I check in for orientation? What time does orientation end on day two?

A: Orientation starts with check-in at 8:00am. Check-in will take place in Ernsthausen Hall, located on the corner of Tressel and Center Street. You can park in the Union/Welcome Center parking lot directly across from the building. The ending time on day two will vary based on your individual academic advising appointment. As a general guideline, the earliest time to check out is 10:30 a.m. The latest would be 3:00 p.m. Academic advising appointments are given at check-in.

Q: Am I at a scheduling disadvantage if I come to a later orientation?

A: No. Scheduling is based on when the schedule preference form is received. This is one of the forms on the list of forms you fill out (with the orientation registration form on WebExpress). Advisors make a pre-schedule and hold spots for you in classes, so it does not matter when you actually attend the orientation session.

Q: Is orientation mandatory?

A: Yes. Orientation is required for all new students.

Q: I am a commuter student. Do I have to stay overnight?

A: Yes. All first-year students are required to stay overnight. Although you will not be living on campus, spending the night is a great way to meet other new BW students. Our day one evening activities go late into the night. We start early on day two.

Q: Where do I park? Can I leave a car on campus overnight?

A: For orientation, you can park in any BW lot during the day and overnight. No overnight street parking is allowed. You will get ticketed by Berea Police if you do. 

Q: How do I get a parking permit?

A: A parking permit for orientation is not necessary. A parking permit for the semester or academic year is required for all students who wish to bring a vehicle to campus. All students who are registered for classes will be notified via BW email when they may order their parking permits.

Order your permit online. You will need to know your University ID number and the make, model and license number of the vehicle(s) that you regularly drive. Once your permit has been activated, you will receive an e-mail notification. If your permit is ordered prior to July 31, your permit will be mailed to the residence address we have on record. If your permit is ordered/activated on or after August 1, you will pick up your permit in parking services. You may order a permit for one semester, or you may order a permit for the entire academic year. 

Q: Who can I talk to about my financial aid package?

A: Financial aid staff will be available during orientation for appointments to discuss your financial aid package. If you are in the area, you can also stop by their office and meet with a staff member.

Q: May I see my residence hall room during orientation?

A: Many of our rooms are used during the summer for conferences. Therefore, rooms are not available for viewing or measuring prior to move-in in the fall. 

Q: How do I find out my fall roommate assignment?

A: Roommate information as well as room assignments will be posted on bw.erezlife.com in mid-June. View your assignment. Specific questions can be directed to the office of residence life at (440) 826-2114. 

Q: How do I request a roommate for the fall semester?

A: Roommate requests can be put directly on the housing preference form and updated up until June 1. For a roommate match to work, both students need to list one another as a roommate. For example, if Josh and Steve want to live together, Josh has to list Steve's name and Steve has to list Josh's name. However, if Steve lists Josh but Josh does not list Steve, it will not appear as a mutual request and therefore will not be granted. View and change your application. Specific questions can be directed to the office of residence life at (440) 826-2114.

Q: When is move-in for first year students? 

A: Move-in for all new students is Wednesday, August 15, 2018 from 10:00 a.m. to 1:00 p.m. students involved in a special interest group - football, honors program, Jacket Link/Bridge, etc. – will be notified of move-in date by the people in charge of their program.
Helpful Hints
Below are some tools that you will use in preparing for your orientation session as well as preparing to start at BW in the fall.
Links are provided for each of our technology tools.
Once you pay your new student deposit, you will be sent a username and password to log into WebExpress to fill out all of your orientation paperwork. There are several forms to fill out, so be sure to fill them out as soon as possible.

You can find out more details about your deposit and login information on our "next steps for admitted students" page.


Also, WebExpress will be the place you use to order your textbooks online, find your housing/roommate assignment and track your academic progress.

Checking your BW email is important, as this is this is the official means of communication from the University. 

Over the summer, we recommend checking your BW email at least once a week to get used to logging into the system. We will also send important reminders to your BW email leading up to and after your orientation session. You will use the same username and password you created to complete your orientation paperwork.

MyBW is your main hub for BW information. This site is a one-stop-shop, providing you with access to Blackboard, WebExpress, email, events and more.