Business, civic leader Paul Clark to speak at BW Commencement
With impressive accolades in Cleveland's business and civic sectors, Paul Clark, MBA '81, is the keynote speaker for Baldwin Wallace University's Spring Commencement ceremony Saturday, May 6.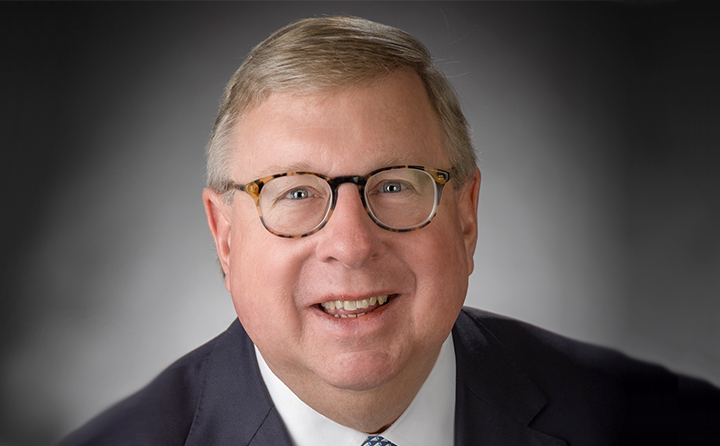 Clark, who served as regional president for PNC Bank in Cleveland, will provide inspiring commentary to BW's 455 undergraduate and 143 graduate students for the 173rd Commencement Ceremony in Ursprung Gymnasium (Lou Higgins Recreation Center) at 2 p.m.
Clark joined the former National City Corp. (PNC's legacy bank) as a management trainee after his graduation from Denison University. His 43-year exemplary career melds effective strategic planning and leadership in the banking industry with extensive civic engagement that resulted in the funding of multi-million-dollar programs benefiting thousands of children in the region.
Exceptional business leader
His career trajectory includes the roles of executive vice president of retail banking in Pennsylvania and regional president of Michigan/Illinois. Clark also served as executive vice president of institutional asset management and chair of the investment management company.
Clark served as regional president in Cleveland for 14 years. He successfully led the local conversion for PNC's customers, employees and community partners following its merger with National City in 2008. He retired from PNC in 2019 after an illustrious career and community service that included 24 local non-profit organizations, successful capital campaigns, and economic development and advocacy initiatives that continue to positively impact Northeast Ohio.
Advocate for the underserved
With countless accolades and achievements for his work in the community, Clark has been an ongoing advocate for the region's underserved. His legacy includes the creation of the PNC Fairfax Connection, a community resource center providing free programming for individuals in Cleveland.
In addition, his work in improving access to high-quality early childhood education led to PNC providing $9.6 million in grants to local organizations focused on that goal. He also served as co-chair for a youth-focused initiative that raised $13 million in corporate and private donations.
Award-winning honoree and proud YJ4L
Among civic commitments, Clark has served on the board of directors for Baldwin Wallace University since 2009. He also has been a board member for the Rock and Roll Hall of Fame and Museum, Cleveland Council on World Affairs, Gordon Square Arts District, Greater Cleveland Partnership, University Circle Inc. and University Hospitals Health Systems Inc.
His recognitions include a BW Honorary Doctor of Humane Letters in 2010 and an honorary degree from Tri-C. Clark also has been a recipient of the Levin College In Tribute to Public Service Award, United Way Volunteer of the Year, Kol Israel Humanitarian Award, Richard H. Adler Community Leadership Award, Business Hall of Fame and The Cleveland Foundation Homer Wadsworth Award.
In addition to his BW MBA, Clark has a bachelor's degree from Denison University and is a graduate of the Stonier School of Banking.