Rooks to Cooks: BW dining services hosts Cleveland Browns Rookie Cooking Class
While mastering the NFL playbook is job-one for the Cleveland Browns' rookie class this summer, a healthy recipe book is not far behind.
That's why the team arranged a Rookie Cooking Class, hosted by chefs from Baldwin Wallace University Dining Services, to teach newbies how to better fuel their bodies as they step up to compete in the NFL.
The basic culinary class, which featured a healthy menu chock full of lean protein and colorful veggies, was held at BW's Center for Innovation and Growth, which is less than a mile from the Browns' training complex on the CrossCountry Mortgage Campus in Berea.
Football, food and fun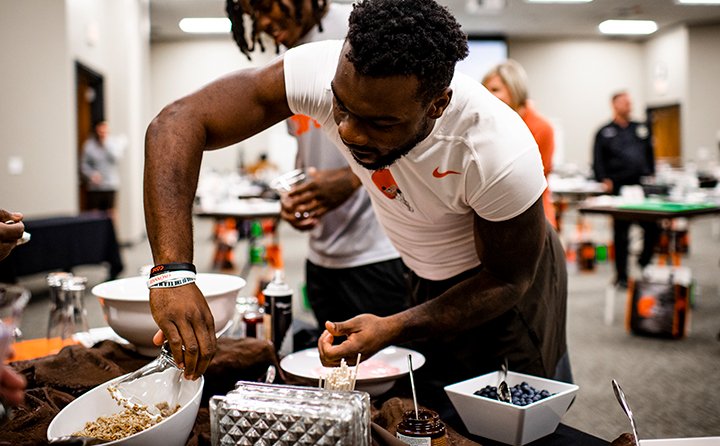 BW spiced up the meal prep practice with a serving of friendly competition, judging the athletes' finished creations for both taste and presentation, with two "Rooks to Cooks" trophies and prize packages on the line.
The class started with the athletes "on the clock," creating a healthier but eye-catching dessert by layering yogurt, fruit, granola and other toppings in 10 minutes.
As they moved on to prepare a stir-fry for their main meal, demonstrated by BW executive chef Jeff Urban, the players practiced everything from knife skills to food safety.
Competitive Culinary Edge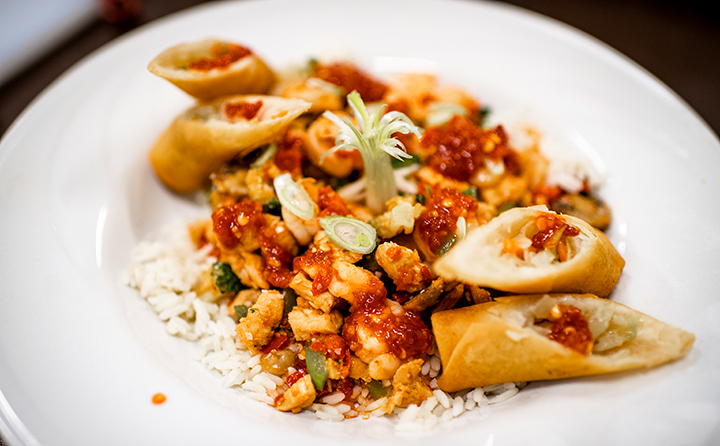 After plating their main dishes with additions of already-prepared rice, pasta and egg rolls, the players' concoctions were rated.
The scoring resulted in a three-way tie for main dish runner-up (no tiebreakers or overtime permitted), but the judges crowned center Brock Hoffman as winner of the stir-fry competition, with linebacker Silas Kelly taking the prize for best dessert.
TV tips and BW inspiration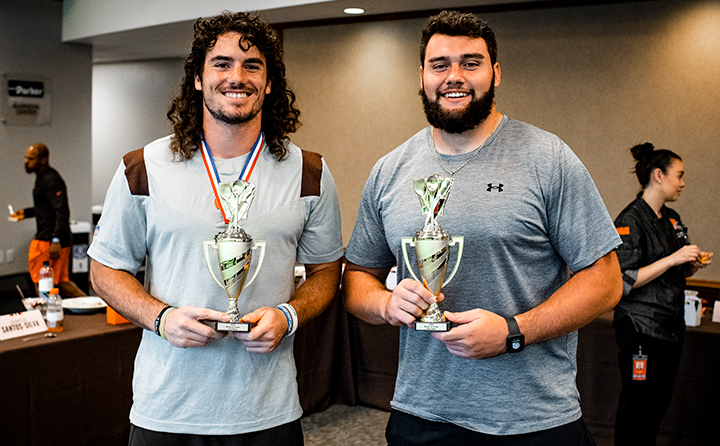 Hoffman attributes part of his triumph to years of watching "Chopped" on the Food Network with his father.
"That was my dad's favorite TV show, and I think I picked up a few skills — like how to caramelize the onions — just by watching cooking shows like that," the 6-4, 302-pound Hoffman explains. "When I tasted my dish today, I knew it was good."
Hoffman also credits one of the BW Dining Services culinary guides with offering design ideas for the superior presentation that he executed.
Connecting BW partners
The Browns Rookie Cooking Class was arranged through BW's new Office for Corporate and Organizational Engagement.
The office, which was established earlier this year, is tasked with acting as a concierge to connect companies, organizations and municipalities to BW's student talent, faculty expertise and vast portfolio of university services and customized offerings.
Watch a video of the Browns rookies cooking and creating on BW's TikTok or Instagram Reels.