Ellen Zegarra brings ingenuity, strategic thinking to BW VP role
Stepping into her new role as vice president for philanthropy and alumni engagement, Ellen Zegarra has the leadership and professional skills to create transformative opportunities for Baldwin Wallace's future.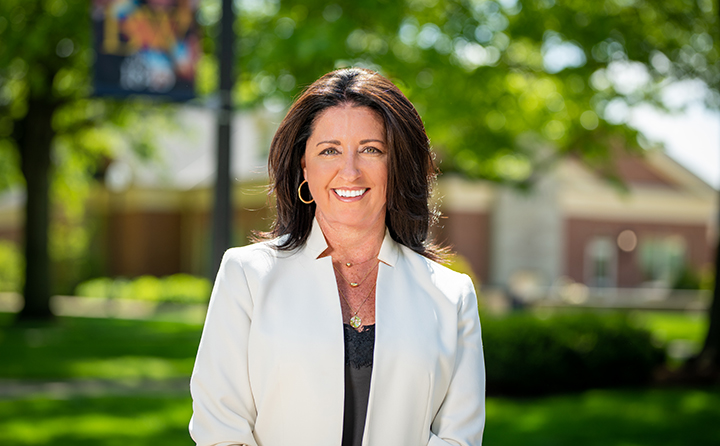 Promoted to the position in October, Zegarra is leading a team of 15 professionals dedicated to building an enduring foundation that will support the mission and vitality of the University for generations.
Through the Center for Philanthropy and Alumni Engagement, the BW community unites for special events like the recent Bold & Gold Homecoming Festival, Founders Day and Athletics Hall of Fame. But in addition to those celebratory gatherings are important philanthropic initiatives that provide substantive financial and learning benefits to the BW community.
Zegarra leans into such opportunities with purpose and strategic thinking. Her intuitive talent for tapping into donor affinity and creating pathways for collaboration comes from a genuine understanding of how people and projects can unite to create synergistic benefits.
Setting a Foundation for the Future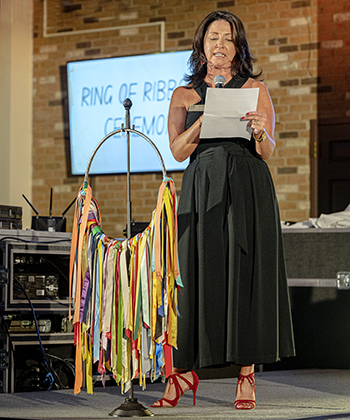 "In her nearly seven years with BW, Ellen has provided strong leadership, foresight and ingenuity to her various roles. She and her team have reimagined and expanded programming, communication and outreach to our 50,000-plus alumni. I am impressed by the energy and enthusiasm of her team. Many of them are alumni and represent the best of YJ4L spirit," said BW President Bob Helmer.
"Genuine relationship-building is the cornerstone of philanthropy," he went on to say. "We value our constituents who share a similar vision of creating extraordinary learning opportunities not only for BW students but also for our region as we provide support to a growing need for workforce development.
"This is where Ellen and her team are at the forefront of helping us transform our visionary thinking into real programs. We have new and exciting initiatives that need funding and plans to expand and renovate existing facilities. Ellen's proven expertise will be invaluable as we move forward," he emphasized.
Tellers of the BW Story
Having majored in public relations at Ursuline College, Zegarra understands the value of private education and the deep connections that unite alumni to their alma mater. So it was no surprise that she quickly excelled in her early BW roles of senior philanthropy advisor and assistant vice president for philanthropy and strategic engagement.
"As a first-generation student who came from a large family, I recognize the importance of making BW affordable for families. I understand the sacrifices and even struggles made along the way. These come from a place of the heart. Families know that a Baldwin Wallace education is an outstanding investment. I know it, too, which is why I see myself as an ambassador to helping them achieve that goal of a quality education," she explained.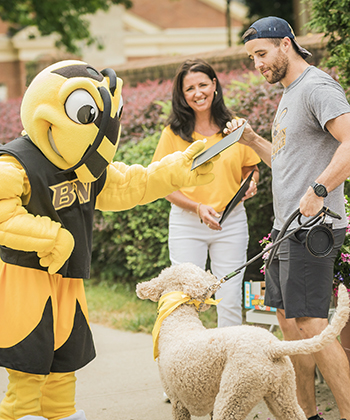 "I have the honor and privilege of meeting alumni from every generation. I hear their stories of gratitude to BW — how philanthropic support made a lasting difference in their ability to attend college. Among the greatest experiences I have are when I introduce a scholarship recipient with the benefactor. It is an amazing moment that reminds me why the work we do is invaluable," she emphasized.
"We are all tellers of the BW story. And the story continues because each one of us plays an important part. My goal is to build even more pathways for alumni, corporate partners, faculty and staff, and friends to engage more fully. My team is creative, ambitious, excited and ready to build on the success of cherished traditions and to create new ones. Among projects, we want to expand our affinity group outreach and substantially increase the participation rate of donors to the Annual Fund," said Zegarra.
"If every alumnus participated at whatever level is most doable, then the results would be transformational. The Annual Fund is the lifeblood of BW and helps subsidize the gap between what it costs to educate a student and what we receive for tuition. In simple terms, it provides much-needed scholarship money to families in need and supports other key initiatives on campus. Every donation, regardless of size, makes a lasting impact," she added.
Wearing Her Brown & Gold Proudly
"My career has been devoted to communications, advancement and marketing," noted Zegarra. "People tell me that I'm good at what I do because I'm an optimist at heart, a problem-solver and resourceful. I like to think that those traits come from being passionate about the work I do. I am a true believer in relationship-building and being respectfully fearless. That means that I have an innate drive for success that is outward-facing. That is, I work hard for the benefit of others. So being fearless means that I will be creative, collaborative and focused on achieving a goal.
"I will turn every stone to find every opportunity for greatness at BW. I wear my Brown & Gold proudly. Just ask my husband and two children. I am a true YJ4L, and I believe the future will be amazing for BW. I am part of an incredible team ready to take alumni engagement and philanthropy to the next level. I hope you will join during this exciting and transformational time," she said earnestly.