BW alumnus has 'write' stuff for Hollywood success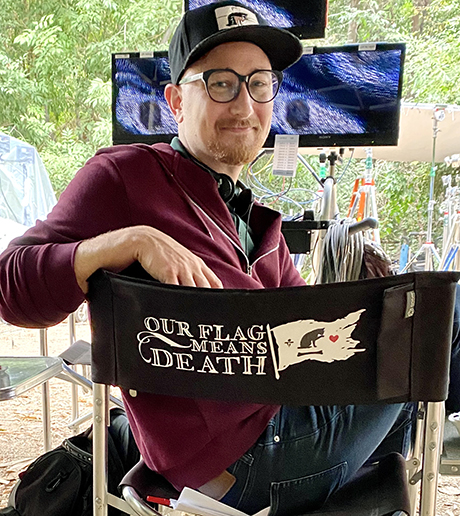 Writer-producer Alex Sherman '10 knows what it takes to make it in Hollywood. In his short career, he's written on several TV shows, including "People of Earth," "Upload," "Bless This Mess" and the upcoming HBOMax comedy "Our Flag Means Death," starring Academy Award-winner Taika Waititi.
His writing career started long before his name graced our TV screens. From the time he was a kid, this motivated Mentor, Ohio, native was always writing sketches and short films and recruiting his friends to be in them. And although his spotlight story could have been written by a BW person, it seemed appropriate to let Sherman be his own writer for his success story, which he transformed into an entertaining, first-person narrative filled with helpful advice, real-world insights and amusing quips.
LEARN EVERYTHING
"I always knew I wanted to be a writer, but it takes so many other skill sets to make a great TV show. That's why I worked in every department I could at the beginning of my career. Before I got my first writing credit, I did administrative and office work on 'Avengers,' served as a camera-op on a Hallmark movie and as a coordinator in the editorial department on Nickelodeon's 'Yo Gabba Gabba.' While it may seem like a circuitous path, by the time I was producing my own episodes of television, I knew a lot about what these departments needed to get the best final product."
WATCH MORE TV
"My best advice for any up-and-coming writer (besides the need to write all the time) is to watch more TV! I'm a huge fan of television — I can quote every episode of 'Cheers' and fall asleep to reruns of 'The Drew Carey Show' and 'Futurama.' Studying good shows and the not-so-good ones teaches you so much about what works on screen. If you can verbalize what you do and don't like about a piece of work, it'll help you figure out your own unique voice. It also helps when you run into a famous writer or actor and can tell them how much you like their work without having to Google them first!
"I really honed my analysis skills at BW. At that point in my life, it was the first place where I was surrounded by people with diverse backgrounds and points of view. I got to see what others loved and appreciated about film and TV. It really taught me that there weren't always right answers when it came to entertainment, just differences in opinions."
BE NICE (BUT MAKE YOUR POINT)
"It's not enough to be a great writer, especially in TV, which is a very collaborative medium. One of the reasons I've succeeded is that I definitely keep a level head even when creative discussions get charged. Every artist is sensitive about their work, so if you feel like someone's idea isn't working … say it gently! You get a lot more work done when everyone feels appreciated.
"For anyone planning to pursue a career in Hollywood — you're going to hear NO about a zillion times more than you hear yes. Getting good at rejection is the name of the game. If you DM me, I'm happy to give you your first 'NO' and welcome you to the club!
"Any great story will have a crescendo moment or something that completely draws the audience into what is happening. Eleven years out of BW, and I still feel my crescendo moment is still to come. But I'm hoping it involves some kind of rocket ship or something that stars Kathy Bates."