BW joins military tradition of honoring veterans with custom challenge coins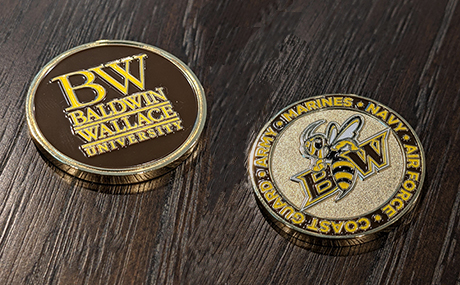 Baldwin Wallace University is issuing a new token of pride, connection and appreciation to veteran and military students in the form of a "challenge coin."
The New York Times describes the tradition this way, "Military commanders often give pocket-size medallions, called challenge coins, to service members as a mark of camaraderie. … Throughout their service, military members use the coins to prove their allegiance when challenged. High-ranking officers and retirees often display a collection of coins in their offices … as a symbol of pride."
In fact, Nancy Jirousek, BW's senior director of transfer and military services, has her own collection of coins presented to her by students through the years.
Long-standing BW goal
"Creating a BW challenge coin to present to graduating seniors has been a goal for our program," Jirousek says. "It is a long-standing military tradition and brings something both familiar and unique to BW veteran students."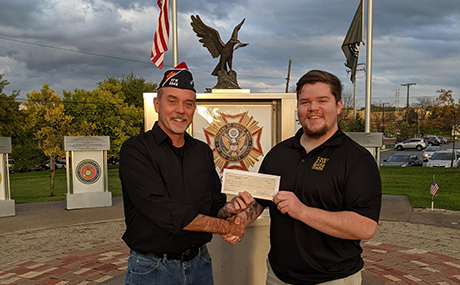 Michael Brown '18, a BW graduate, veteran and manager of BW veteran and military services, says the BW coins were funded through a donation from the VFW Post 3345 in Strongsville, Ohio.
"I believe it is important that we find ways to support student veterans as they transition out of the service while maintaining parts of our military identities," Brown explains. "The challenge coin is a way to show gratitude towards others for their exceptional service and is easily identified by those who've served."
Symbolism and meaning
Brown and Jirousek say the symbolism of the coins is uniquely meaningful for a special student population.
"They allow our student veterans to move forward as alumni and remember the importance higher education played in their transition as well as recognize the challenges they overcame to return to college as veterans." 
BW Veteran's Day 2021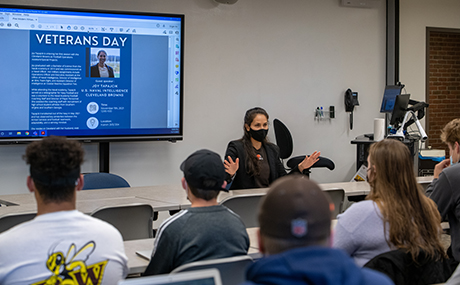 For this year's campus Veteran's Day commemoration, BW partnered with the sport management and national security majors to invite Joy Tapajcik, a Naval Academy graduate, former Naval Intelligence Officer and now operations assistant with the Cleveland Browns, to speak. 
"Women have always been roughly 25-30% of our student veteran population, so we made programming for women a focus this year," says Jirousek. "Incredible women who have served have enrolled at BW, graduated and gone on to do amazing things. Spotlighting their stories is so important."
"Overall, women are the fastest-growing demographic among veterans returning to the civilian population," adds Brown. "As such, they will play an even greater and more critical role in shaping the way communities support veterans."