Vibrant Bold & Gold Homecoming Festival ignites Baldwin Wallace community spirit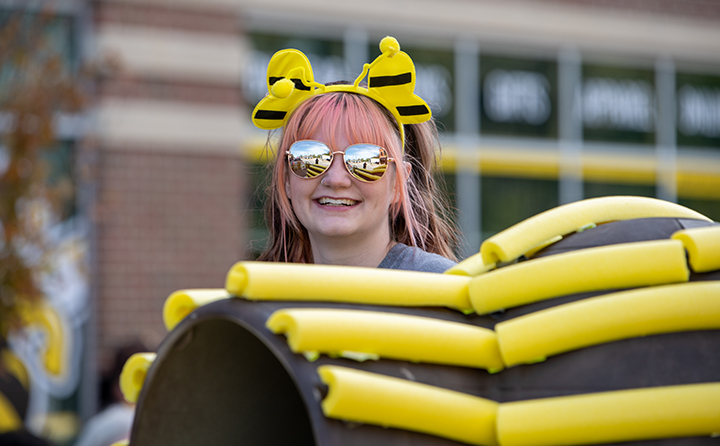 After an absence in 2020 due to the pandemic, Baldwin Wallace University's 2021 Bold & Gold Homecoming Festival came roaring back this year with three days of spirited fun for the entire BW community.
From a Thursday kick-off rally to Saturday night's soccer contest and loads more in between, Yellow Jacket pep and pride ruled the weekend.
All Together Since 1845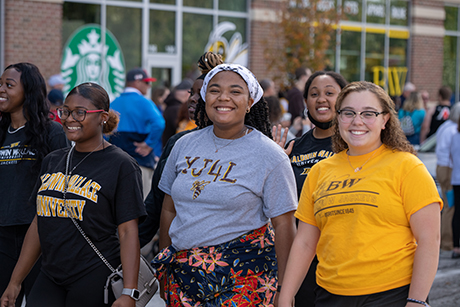 The festival drew students, families, alumni, employees, neighbors and friends at events linked by the theme, "All Together Since 1845," the year of BW's founding.
Featuring in-person and live remote options, the festival opened on Thursday, September 30, with a virtual trivia night and a Finnie Stadium pep rally that included performances by the BW Dance Team, Urban Dance Association, Cheerleaders and Marching Yellow Jackets.
On Friday, the School of Business hosted a "Level Up Your Linked In" Zoom event during the noon hour, and the BW Symphony was back on stage for a live evening concert offered to audiences both in Gamble Auditorium and via live stream.
Wall-to-wall Saturday celebration
A jam-packed Saturday had something for everyone. A parent's reception, an esports competition, library exhibit, tours and alumni affinity group gatherings started the day.
Everybody's favorite Disney songs floated through the air as students in BW's renowned music theatre program performed an outdoor concert on the steps of the Boesel Musical Arts Center.
This year's Homecoming parade stepped off up Front Street featuring 2021 Grand Marshals Irene '53 and Ted '51 Theodore, plus entries from 40 student groups.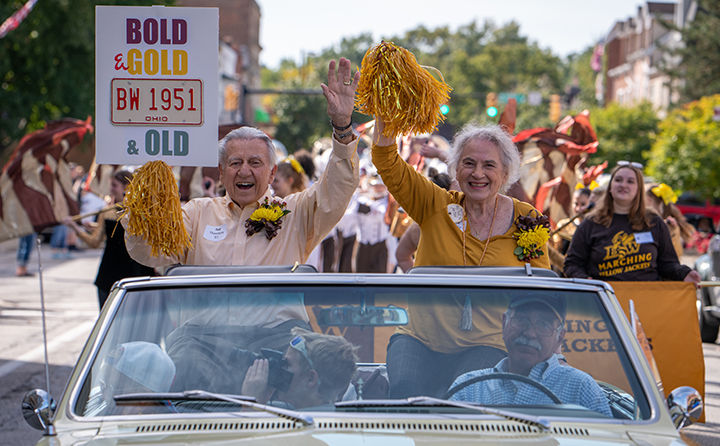 The Best Banners and Floats Contest singled out three winning floats: Outdoor Adventure Program in first place, Circle K International in second and Zeta Tau Alpha in third. For best banner, Inter-Residence Hall Council claimed first prize, Circle K International was awarded second place, and third-place honors went to Rotaract.
The parade led the way to BW's North Quad, where a lively Bold & Gold festival awaited with a ring of tents offering street fair food, activities, games and mainstage music and entertainment for all ages.
Jacket Rivalries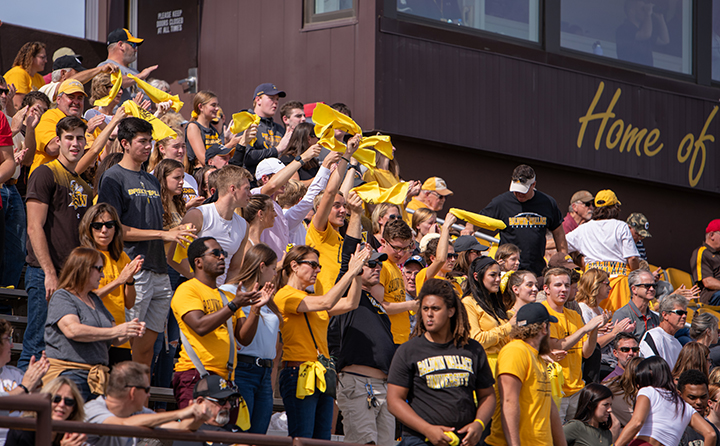 President Bob Helmer, the Theodores, Head Football Coach Jim Hilvert, Stinger, the Marching Yellow Jackets and a shower of confetti rallied festival attendees to move to Finnie Stadium to cheer on the Yellow Jackets.  
The team went on to score a 51-0 BW gridiron shutout over Ohio Athletic Conference rival Capital University, while the BW Men's soccer team narrowly lost their evening contest to Capital, 0-1.
Jacket Royalty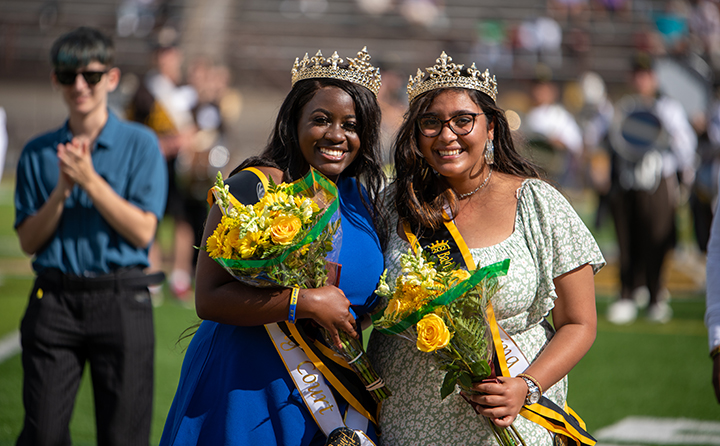 Halftime ceremonies at the football game included the crowning of the 2021 Jacket Royalty, selected from a homecoming court of senior students.
Two seniors on the court were chosen for the honor of Homecoming Royalty, regardless of gender identity, through a combination of student votes and judges' interviews: Aru Gupta and Ru Mareya. According to the selection criteria, the two chosen students "embody and uplift the mission and values of Baldwin Wallace."
Other members of the homecoming court included Olivia Caraccio, Bryce Kessler, Katie Lyons, Ezra Ohly, Jordyn Rozek, Jared Rudge, Emma Seitz, Corrine Starks and Rachel Vanarsdale. The student body also elected two juniors to the court, Zaire Hall-Hamilton, an English and adolescent young adult education double major, and Hazelyn Smith, a psychology major.
Disco Fever and Photos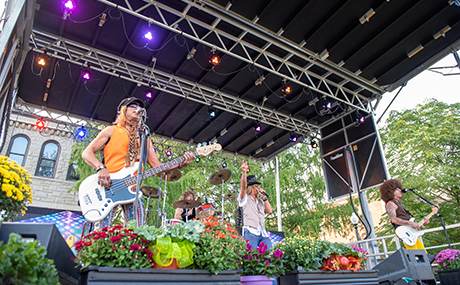 After the football victory, the annual Breezer's Cup was presented to Rotaract. Named for Myron W. Thornburg, the Beezer's cup celebrates school pride and spirit.
Then, it was back to North Quad for a post-game celebration straight out of the 1970s with a concert by "Disco Inferno" and more good eats provided by popular food trucks.
All in all, Bold & Gold more than made up for a one-year absence and celebrated the resilience and strength of the BW Community, ALL TOGETHER Since 1845.
Visit BW on Flickr, Facebook and Instagram for additional photos and videos from the day being added this week.