BW announces grand marshals for 2021 Bold & Gold Homecoming Festival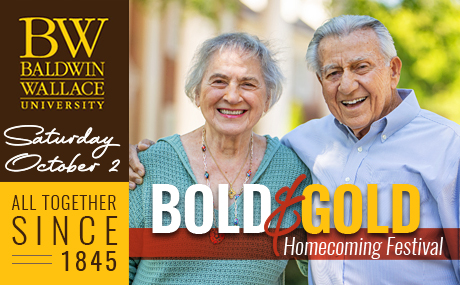 The excitement is building for the biggest event of the fall semester. Join our BW 2021 Grand Marshals Irene '53 and Ted '51 Theodore for the 2021 Bold & Gold Homecoming Festival — a fun event that unites alumni, students, families, community, faculty and staff ALL TOGETHER Saturday, October 2, for a celebration that's 176 years in the making.
The day-long festivities include reunions, performances, campus tours, parade, spirit rally, football, soccer, great food, a live concert and more. Many events are free, and everyone's invited.
New Role Honors Lifelong YJ4L Couple
Adding to the festivities this year is a new role — Grand Marshal, who will be the first to lead the Homecoming parade and rouse the crowd in spirit before the big game. This year's honorees are Irene and Ted Theodore, whose Brown & Gold spirit spans nearly 75 years.
"This is an awesome surprise and honor for us," said Ted. "Both Irene and I are humbled and delighted. Our heart and soul have been with BW ever since we enrolled. In 2021, it was my 70th reunion year. We are looking forward to having a wonderful turnout of alumni and guests."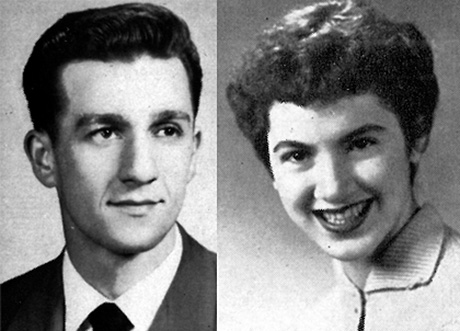 Patrick J. Dunlavy '71, BW vice president for philanthropy and alumni engagement, has known the Theodores for decades. "We are so excited that two BW treasures have agreed to be our Grand Marshals for the Bold and Gold Homecoming parade. Ted and Irene have been the quintessential BW couple. The impact they have had on our students and community over the decades is truly immeasurable.
"As educators, employees, role models and philanthropists, they set the standard for leadership — inspiring volunteerism and values that define the BW experience. I hope we have a great turnout to honor and thank Ted and Irene for all they have done for so many people during their 69 years of marriage," he emphasized.
Dedicated, Compassionate Educator
With a teacher's heart and hands that never seem to tire of helping others, Irene is a proud Yellow Jacket. She graduated from BW with a B.A. in education before attending Western Reserve University to earn her MAEd. A lifelong learner, she continued her studies at Cleveland State University and at Lakeland Community College.
Her 30-year career in education includes Wickliffe, Euclid, Berea and Parma school districts. While there, she immersed herself in professional and student advisor roles that earned the respect of her administrators, peers and students.
With literacy as a foundation for many of her contributions as an educator and volunteer, she took great joy in having meaningful moments where a student and a teacher can connect in special ways, thereby changing each other's lives forever. One of many such experiences was through her work as a Project Learn volunteer at the Cuyahoga County Women's Prison.
In addition to other awards and honors Irene has received over the years, she was a 2004 BW Outstanding Educator Award recipient. Often seen alongside Ted, Irene is a familiar and cherished presence on campus.
Inspiring Generations of Students, Athletes
Ted graduated from BW with a B.A. in health and physical education. He later attended Western Reserve University to earn an M.A. in education and Kent State University for post-graduate work. He also served our country as a sergeant in the U.S. Army.
He took great pride in his role as an art teacher and coach for both the Berea and Euclid school districts. His charismatic personality and rousing spirit made him an unforgettable voice and presence who could be heard cheering and encouraging students and athletes to do their best.
He brought that unwavering enthusiasm and penchant for success to BW in 1982 as director of planned giving. He was later named director of alumni relations, a position he held for 10 years before assuming a new role in development. Ted retired in 2006 but remains hard at work, as always promoting the Yellow Jacket spirit.
Over the years, Ted was the recipient of prestigious BW awards — Athletics Hall of Fame Award in Track (1975), Alumni Merit Award (2006) and Outstanding Educator Award (2016) — as well as numerous other awards and honors.
Heart of a Humanitarian
Family is at the center of the Theodore household, so it comes as no surprise that the affable couple would reach beyond their immediate family of children (Helene, Claire, T.J. and Scott), their spouses, 12 grandchildren and four great-grandchildren to create extended families wherever they went.
From their extensive volunteer work with their church as well as community and professional organizations to their role as educators in districts throughout Northeast Ohio, the Theodores have brought boundless energy and hours of service to helping others.
As we celebrate the illustrious history of Baldwin Wallace and vibrancy as a community, Irene and Ted exemplify the best of BW spirit, congeniality, leadership and integrity. Their generosity in giving of themselves in time and taking care of future generations of BW students through a named scholarship for aspiring educators and other gifts is one of many ways the Theodores bring to life YJ4L.