Baldwin Wallace and partners awarded national grant to advance health equity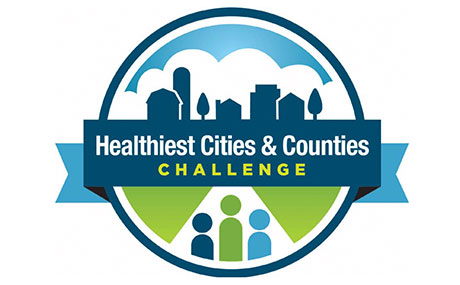 As the disproportionate impact of COVID-19 has highlighted the issue of health disparities, Baldwin Wallace University has partnered with The MetroHealth System, the Old Brooklyn Community Development Corporation (OBCDC) and the Cleveland Department of Public Health (CDPH) to form one of 20 teams nationwide chosen to receive a 2020 Healthiest Cities & Counties Challenge (HCCC) grant.
HCCC, funded by the Aetna Foundation, together with the American Public Health Association (APHA) and the National Association of Counties (NACo), supports communities that are "changing the way they work together across sectors to reduce disparities in chronic disease outcomes."
The BW-led partnership specifically aims to reduce health disparities fueled by food insecurity.
"BW is thrilled that Aetna Foundation and APHA have recognized the strength of our partnership through this award," said Dr. Swagata Banik, director of BW's Center for Health Disparities & Education. "Our program is both an applied research study and an evidence-based approach to community development."
Food access and health outcomes
The award will provide $100,000 to support the partners as they develop and test a Community Health & Nutrition Empowerment Navigator program to improve community food access among residents of Cleveland's Old Brooklyn and neighboring communities.   
"We know social factors, including access to nutritious food, determine people's health far more than the care they receive in hospitals," said MetroHealth President and CEO Akram Boutros, M.D. "This partnership will build on important work we have started together and help advance health equity in Cleveland."
"We are so pleased to be working in partnership with BW and community partners on this critically important topic," said Merle R. Gordon, director of the Cleveland Department of Public Health. "In the face of the COVID-19 pandemic, this is needed now more than ever."
Empowering community-led solutions
Dr. Banik, who was recently named dean of graduate studies and research at BW, and Dr. Laura Hopkins, assistant professor of public health, will co-lead the project along with colleagues from the partner organizations. The program will also offer experiential learning opportunities for BW public health students. 
An important program key is the recruitment, training and support for community members to become certified Health Navigators for their neighbors. 
"Old Brooklyn CDC is proud to partner on this exciting project that highlights the innovation and leadership existing in the collaboration," said Jeffrey T. Verespej, executive director of Old Brooklyn Community Development Corporation. "Rooting solutions in community is not only our preferred way to change lives, we believe it is the best way."
Timely in the COVID-19 era
"Access to health care and healthy food, as well as other social determinants of health, can significantly impact rates of chronic disease and other health outcomes with average life spans varying by up to 20-30 years in communities that are just a few miles apart," said Eileen Howard Boone, president of the Aetna Foundation.
Boone added, "We are proud to partner with APHA and NACo to support the work of Baldwin Wallace University and their partners to drive change and address these social determinants of health — work that is now more important than ever, given the COVID-19 pandemic."
An expert panel selected the Cleveland collaboration following a rigorous review process that looked at the level of innovation in proposed approaches, intended impacts and alignment of diverse partners around common priorities. View the full list of grantees and their community partners.