Life is more than straight A's for BW Class of 2020 top academic achiever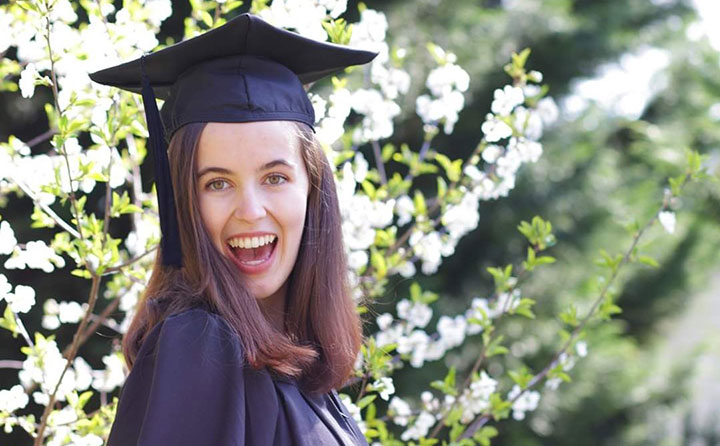 Of course, the winner of the 2020 Milton T. Baldwin Prize, Baldwin Wallace University's equivalent of valedictorian, graduated with a 4.0 grade point average. In fact, 40% of Sarah Myer's coursework earned an A+.
The sustainability major from Weaverville, North Carolina, also notched that stellar collegiate academic record while completing her degree in just three years and working full time during her final semester.
But Myer's BW story runs much deeper than a straight-A transcript. Hers is also the tale of battles with a mystery illness and internal struggles to find the right career path.
Charting a life of public service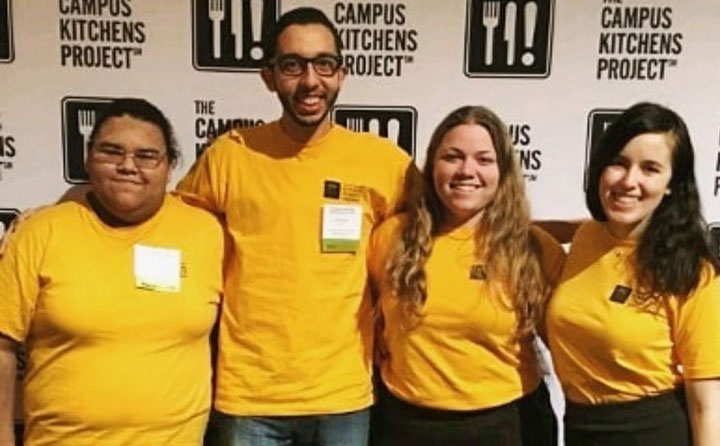 In her time at BW, Myer managed to volunteer for three alternative break service trips, mentor students at a Cleveland high school, embrace the sisters of Alpha Gamma Delta, complete a faculty-mentored Summer Scholars research project, worked two internships and led BW's Campus Kitchen food recovery program as student director.
"It was through The Campus Kitchens work through the Brain Center for Community Engagement that I truly found a second home on campus as Dr. Christy Walkuski encouraged me to dream big and work hard to make an impact on the issues affecting our society," she says.
'Life-furthering' choices
While establishing an underlying theme of public service for her future life's work, Myer was finding the depth of the BW academic course menu to be both a blessing and a curse.
"For the entirety of my college experience, I struggled with what exactly I wanted to do with my life. It seemed like every course I took would lead me to the perfect career path, and I loved them all. I was stuck because there were so many options, and I wanted to make the right choice."
Then, business professor Dr. Param Srikantia gave her some sage advice: as long she made a "life-furthering choice," it could not be wrong.
"I found this to be profound because very little in life happens linearly, and whatever I chose would give me a valuable experience even if I later pursued a career in something else," she says. "Knowing this helped to take some of the pressure off."
Life-threatening illness
But Myer was also fighting chronic physical illness. "During my first year at BW, I contracted a life-threatening infection and went into the beginning stages of organ failure."
A series of symptoms and hospitalizations would follow.
"My illness left me exhausted and frequently made me too ill to do the things I cared about," she recalls. "But my professors were always very accommodating, and my academic advisor, Dr. Jill Fleisher, encouraged me to take care of my health first. Because of this, I was able to continue to excel in my courses."
It wasn't until her last year at BW that she was finally diagnosed with Ehlers-Danlos Syndrome.  
"[The diagnosis] tied together all of my medical issues and finally gave me an explanation for my illness," she says. "My experience with chronic illness has inspired me to continue to fight for underprivileged communities."
Future walk of life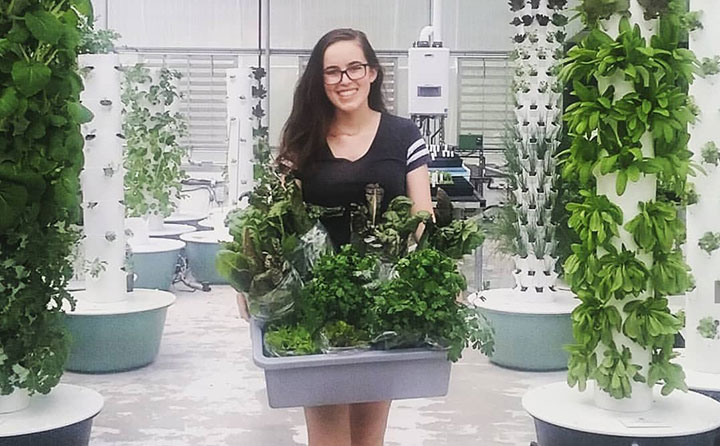 Myer now plans to wage that fight through the legal system. It was following a sustainability capstone class and summer scholar's project with Dr. Franklin Lebo that Myer's career interest turned to the law.
With Lebo's support, she prepared for and took the LSAT exam and applied to a variety of law schools. Admitted to every single one, she has chosen to attend The Ohio State University Moritz College of Law with a full-tuition scholarship. 
"I currently plan on pursuing Family Law and utilizing every resource available to aid women and minorities through the legal process," she says.
Looking back, the career discernment she worried about arrived right on time.
"It was not until the summer of 2019 that things fell into place for me, but I now realize I had been gaining pieces from the beginning. I know my time at BW has prepared me for what comes next."