BW grad 'builds' philanthropy on a large scale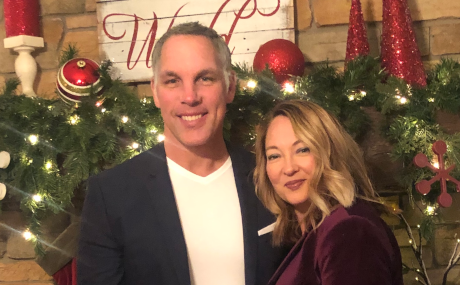 "I always wanted to give back on a larger scale," said Baldwin Wallace University criminal justice graduate Jeff Crawford '96 of Avon, Ohio.
As Cleveland Custom Homes president and owner, Crawford's latest effort with the Cleveland Home Builders Association and the sold-out 2020 Cleveland St. Jude Dream Home Giveaway will culminate with a lucky winner being drawn in June.
Community Service Sets Path to Philanthropy
Crawford's philanthropy began in his final year at BW when his criminal justice class made regular visits to the Berea Children's Home, now Ohio Guidestone. They did activities and played games with the children, and the smiles that were created left a lasting impression.
That experience also inspired Crawford to do additional community service. When he worked in logistics for Ryan Homes for 15 years alongside BW grads and football teammates Brandon Felger '96 and Dustin Hemming '97, the trio organized an annual pair of projects for Habitat for Humanity.
When Crawford left Ryan Homes and started Cleveland Custom Homes in 2012, he added BW teammate Brian Laux '98 as his project manager. The duo continued working with Habitat for Humanity, and that's when an opportunity to do even more for the Greater Cleveland community occurred.
Building Dreams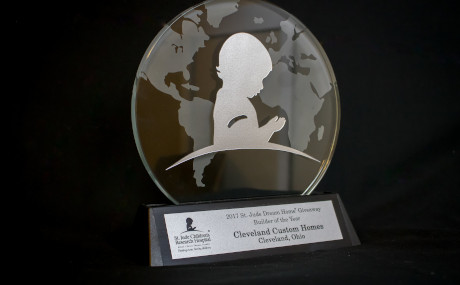 "St. Jude's was looking for a new sponsor group in 2015," said Crawford. "They approached me about forming a committee and raising the $2 million necessary to build the home. It was a serious challenge, but we said we'd give it a shot."
The St. Jude Dream Home Giveaway program is run throughout the United States and in 44 locations. Crawford and his Cleveland committee are in their fifth year of helping to organize the event. It involves obtaining the necessary infusion of money, building and construction contracts, legal advice and counsel, and hosting events, including a gala and several golf outings. He feels the Cleveland Area Committee is doing exceptionally well.
"This is an honor and a privilege to help raise money for the kids and for kids who really, really need our support and love," said Crawford, who has three daughters. "St. Jude pays for the land and for the kids' treatment, and we ask the trades, vendors and suppliers to pay for the materials and labor.
"Tickets cost $100 and we sell 2,000 tickets. Our gala and golf outings probably raise between $50-100,000, so we are very active throughout the year.
"The first year, we struggled getting totally organized and raised 60% of our goal," said Crawford. "But the last four years, our committee of 12 people has worked tirelessly to achieve our goal of $2 million for the kids, and I am so impressed and so proud of everyone's hard work and passion."
Trio of mentors

Crawford credits three of his former coaches, the late and legendary BW football coach Bob Packard, Lakewood football great Ken Fell and baseball mentor Ken Ciolek, with preparing him for a life of work and giving back.
"I am so thankful for the people in my life who were instrumental in teaching me best practices," said Crawford. "Coach Fell and Coach Ciolek helped me mature in high school and led me to Coach Packard. Coach Packard taught me effective leadership habits through athletics that I utilize today. Combined, they taught me to work to reach my potential every day, including today!"
Still Giving Smiles
In addition to his annual commitment to the St. Jude Dream Home, Crawford continues to contribute time, money and effort to Ohio Guidestone. Every summer, Cleveland Custom Homes renovates a room on the Ohio Guidestone campus.
"We want to bring some joy and excitement into their life. I want to see the smiles on the faces of those kids just like I did that first day as a senior in college at Baldwin Wallace."