BW Survey Shows Midwest Voters with High Anxiety About Pandemic, High Approval For Governors Handling Crisis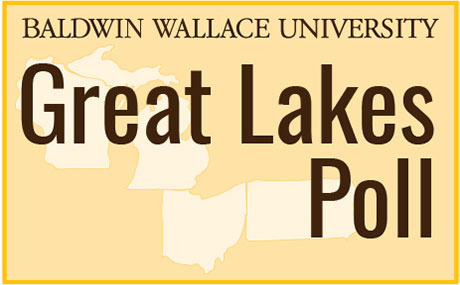 Results from a new Baldwin Wallace University Great Lakes Poll offer a snapshot of public opinion in four key Midwest states caught in the midst of the fear and uncertainty caused by the coronavirus pandemic.
Spearheaded by BW's Community Research Institute (CRI), in partnership with Oakland University and Ohio Northern University, the poll questioned self-identified registered voters in Ohio, Michigan, Pennsylvania and Wisconsin on a variety of topics including COVID-19 (coronavirus) and approval ratings for how the president and state governors are handling the crisis, along with the 2020 election and more. 
KEY RESULTS ON COVID-19
GOVERNORS LEAD COVID-19 RESPONSE - A supermajority of respondents approve of how their governors are handling the COVID-19 crisis compared to slight majorities that approve of President Trump's handling of the crisis. (Q20, Q16) 
Analysis: "Ohio Republican Governor Mike DeWine's apolitical, no-nonsense response to the crisis has set the national agenda in terms of how public officials should respond," said Dr. Lauren Copeland, associate director of the BW CRI. "Unlike President Trump, who has tried to downplay the severity of the crisis, DeWine has escalated the state's response based on medical experts' advice."
Analysis: "Although President Trump is seeing some improvement in his favorability ratings in the Great Lakes, his performance pales in comparison to governors in these states," said Dr. Robert Alexander, political science professor at Ohio Northern.
HEALTHCARE #1 ISSUE - Compared to the last survey, healthcare has overtaken everything as the most important issue, presumably due to the coronavirus crisis. 
Analysis: "These results should not be compared with prior Great Lakes Poll data because we are in the midst of an unprecedented crisis," said Dr. Tom Sutton, director of the BW CRI. "It's best to understand the political polling results in the context of uncertainty surrounding COVID-19."
FINANCIAL WOES - The economy is second in importance. Most voters think the economy has either stayed the same or gotten worse, and they also don't seem to have much hope that it's going to get better. Three-quarters of respondents are very or moderately concerned about the effect of the COVID-19 crisis on their personal finances. More than 88% of respondents support unemployment benefits for people losing work due to the crisis.
Analysis: "Interestingly, we are seeing President Trump's job approval ratings improve at the same time that people are worried about the economy," said Dr. Copeland. "This may reflect a 'rally around the flag' effect that is common during national crises." 
COVID-19 A "REAL THREAT" -  A supermajority of voters say the coronavirus is a real threat, but Republicans are more likely to say that the pandemic has been blown out of proportion.
Analysis: "As the pandemic unfolded, there was a tendency for conservative media outlets to call the virus a hoax and that the virus spread was over-exaggerated," said Dr. Terri Towner, political science professor at Oakland University. "It's clear that this media coverage has left a lasting impression on some voters." 
SUPPORT FOR RESTRICTIONS - There is overwhelming support among voters for closing schools, bars, restaurants and other restrictions that have been imposed during the pandemic.
Analysis: "Although Democrats and Republicans haven't agreed on much in recent years, there is startling agreement when it comes to the restrictions put in place by their respective governors. However, differences emerge between partisans when it comes to their personal concern and behaviors in response to the coronavirus," said Dr. Robert Alexander, political science professor at Ohio Northern.
SPORTS SUSPENSION - One sign of the seriousness of the crisis is the willingness of more than 80% of respondents to support suspending professional sports seasons. 
WORST IS YET TO COME - People think the worst is yet to come: about 80% of people in each state say they've changed up their routines. About 75% say they are avoiding contact. 80-85% say they are washing their hands more. About 75% say they're spending more time at home. 
Analysis: "Unlike previous  public health crises such as H1N1 or national events such as 9/11, the coronavirus pandemic is having a direct effect on people's everyday lives. It's personal," said Dr. Sutton.
2020 ELECTION INSIGHTS
TRUMP APPROVAL BUMP - Compared to the first Great Lakes poll, President Trump's overall job performance approval is higher. But his approval ratings for specific issues, such as his handling of the economy and healthcare are less robust. Also, Trump's favorability ratings hover between 41% and 47%, with higher ratings in Ohio and Pennsylvania than in Michigan and Wisconsin.
WOMAN FOR VP - Democratic voters favor a woman as the VP nominee. A majority of Democratic voters think it is "very" or "somewhat" important for a woman to be the vice presidential nominee.
TRUMP V. BIDEN - With Biden as the presumptive Democratic nominee, respondents split in who they would vote for "if the election was held today."  Trump leads in Ohio and Pennsylvania; Biden leads in Michigan; a tossup in Wisconsin.
METHODOLOGY, QUESTIONS & TOPLINE DATA
The second of four planned 2020 surveys, the BW Great Lakes Poll provides a side-by-side comparative analysis of voter views in four states that all went for President Obama in 2012 and President Trump in 2016 – three of four by very slim margins.
The Baldwin Wallace University Great Lakes Poll was conducted between 3/17/20 and 3/25/20 in partnership with Oakland University (Michigan) and Ohio Northern University. The survey was conducted online among self-identified registered voters in Michigan (n = 997), Ohio (n = 1025), Pennsylvania (n = 973) and Wisconsin (n = 822) using Qualtrics, an online sample aggregator. Sampled individuals were emailed by Qualtrics and responded using a personalized link to the survey. 
Additional information on methodology, full question set and data is available in the GREAT LAKES POLL #2 TOPLINE REPORT (pdf).