Wrestling grad's journey comes full circle at BW Center for Innovation & Growth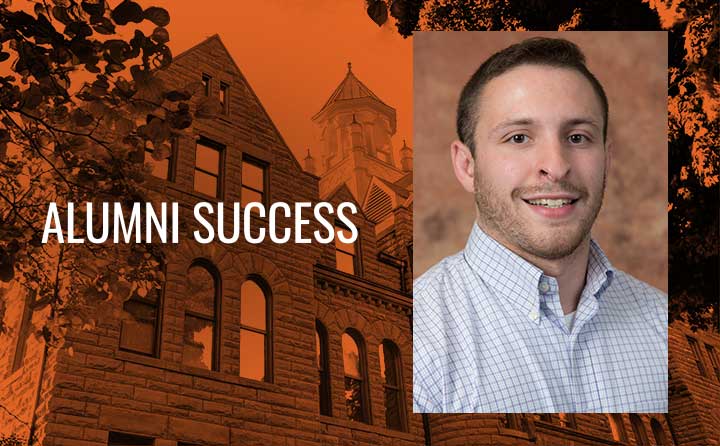 You might say two-time Baldwin Wallace University graduate David Shapiro '16, MAEd '18, is paying it forward in his new role at BW.
As the growth practice manager for the Center for Innovation & Growth (CIG), Shapiro joins a program that was instrumental in helping guide him through a student-athlete's journey that was rocked by a season-ending injury.
Skill building at the CIG
Shapiro plugged into the CIG's programming in personal growth and leadership development as an undergraduate wrestler majoring in exercise science. He was chosen to participate in the Athlete Fellow's Colloquium led by religion professor Alan Kolp, who also serves as the CIG's faculty athletic representative.
"[I] really enjoyed the class with Alan and learning about the virtues and applying them to athletics and life in general," said Shapiro.
Kolp directed Shapiro to a CIG Growth Practice internship for the upcoming summer, which then led to a full-time internship the following semester. During his internship, Shapiro dug into presentation coaching, personality assessments and leadership development activities, which he applied in both his wrestling and academic careers.
Future blurred by injury
Then, in the second semester of his senior year, Shapiro tore his pectoral muscle and his plans of graduating and moving on from BW became blurry. The injury prevented him from competing in his final season, and he was unsure if he might receive a medical redshirt and compete one more season.
"During those injuries, David's maturity and positive mindset helped the team reach new levels even though he was out," said BW Head Wrestling Coach Jamie Gibbs.
With guidance from Coach Gibbs and his family, Shapiro eventually applied for BW's Leadership in Higher Education (LHE) graduate program in hopes of wrestling as he worked on his master's degree. Although this decision meant two more years of schooling, he was one step closer to achieving his goal of working in higher education.
After completion of the program, Shapiro landed jobs as an athletic liaison for the BW Admission Office and part-time assistant coach for the wrestling team.
Mentoring continues full circle
When the growth practice manager vacancy occurred this year, Gibbs and other BW mentors encouraged Shapiro to apply for the post, which oversees all CIG intern activities.

"David is a guy who has maximized his opportunities and potential to grow here at BW," Gibbs said. "He put his full trust into his mentors and has reaped the rewards … I am confident he will help CIG do remarkable things."
Although just starting in the new role, Shapiro has big ideas, and he hopes to have an impact on students' lives the way the CIG impacted him.
"It's so humbling working with such high caliber students and [guiding] them the way I was," Shapiro said. "It's been more amazing than I ever could have imagined."