Day of Excellence puts students in the spotlight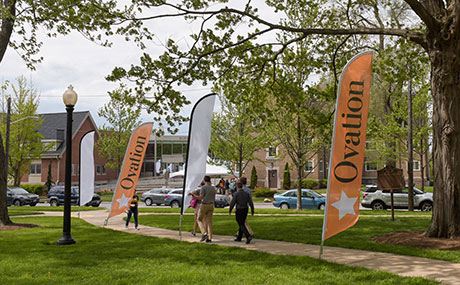 The Day of Excellence is the signature event of the Ovation Festival. Held April 25, the vibrant celebration of student achievement and creativity presented the best of BW and highlighted student work from every school of the University through posters, displays, live presentations and performances.
The day concluded with a campus-wide Honors Award Ceremony that recognized students with scholarships and awards.
2019 Ovation Winners
Student Recognition
A. Fred Crossman Leadership Prize
Hana Najm

Alan Blumenthal Prize in Student Government
Andrew Henthorn

Bonnie Raye Scholar/Athlete Award
Abigail Weagraff

Clyde Lamb Scholar Athlete Awards
Jenisys Battle and Alexis Boledovic

Overmyer Achievement Award
Erin Neff

Will Richmond Prize in Photography
Jesse Kucewicz

Susan Zanetti Family Scholarship
Troi Dotson

Melissa Trifiletti Award in Women's Leadership
Allyson Crays

The Professor David Prok Humanitarian Award for Social Justice in Sex and Gender Diversity
Dr. Ana de Freitas Boe

Outstanding Senior Awards Class of 2019
Gwyn Dubel, Peyton Flasco, Jeremy Foust, Joshua Gunter, Clara Harb, Kevin Hartenstein, Andrew Henthorn, Danielle Hill, Isabel Ison and Alexandra Winkelfoos

Academic Recognition
Dr. James M. Ruegsegger Biology Prize
Tylor Mahany

Amling Investment Award
Daniel Gluvna

Dr. Jacob O. Kamm Award
Kristi Vopat

Ralph M. Dunbar, Jr. Scholarship
Nicholas Piskura

Walter & Elaine Mueller Scholarship
Megan Vaughn

Carmel Family Business Scholarship
Emma Bruno

The Dr. Sardari L. and Sunita Arora Scholarship
Matthew Butt

Concerto Competition Award
Caleb Slabaugh

Mel & Jenna Hakola Prize for Academic and Vocal Excellence
Kailyn Martino

Pavsek Award for Excellence in Economics
Matthew Drozynski

Jess & Arline Petty Scholarship
Arundhati Gupta

Alice Benedict Gagen Prize in Elementary Education
Destiny Kirby

Harold A. & Louise Cramer White Prize
Eugene Jurco

Ruby Redinger Prize in English
Andrew DeValve

A.B. & Georgianna Bonds Scholarship
Samantha Illius and Kiara Rolland

Dr. William D. and Mary Pendell Memorial Scholarship
Rachel Garrett, Gianna Latarski and April Walter

Hower/Stover Award
Lily Pattyn

Dr. Robert H. Lechner Memorial Service Award
Morgan Hoffman

George R. Grame Award
Kiara Rolland

Dr. Emory C. Unnewehr Award
Nathan Bianco

Robert and Dorothy Bell Memorial Award in International Studies
Olivia Pollack

Robert and Dorothy Bell Memorial Award in National Security
Jacob Kucharski

Robert and Dorothy Bell Memorial Award in Political Science
Marija Karic

Dr. Delo C. Grover Award
Trenton Mosely

Laura Anders Canis Philosophy Scholarship
Klementyna Posniak and Ian Anderson

William Prokasy Psychology Alumni Award
Delenn Hartswick

Dr. Ernest Knautz Award
Stanley Bleich

Thomas "Jake" Beyer Award
Kevin Ng

Lillian and Larry D. Bibbee Scholarship
Jessica Blakley and Samantha Illius

John F. and Ida E. Gibler Scholarship
Yash Kahai and Eric Warman

Dr. Maria Marin Memorial Scholarship
Catalina Garcia

Michael Keith Dwyer Art Scholarship
Jake Knowlton

Outstanding Senior – Cyber Security
Bryan Istenes

Outstanding Senior – Software Engineering
Matthew Muenzberg

Outstanding Senior – Computer Science
Tyler Hardy