BW student newspaper wins variety of awards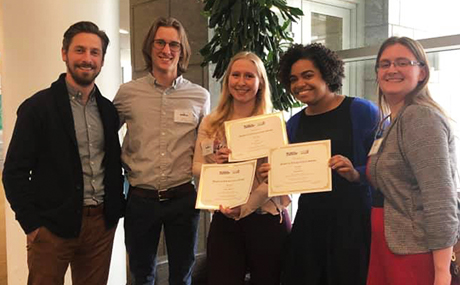 Baldwin Wallace University's student newspaper, The Exponent, under the direction of Dr. Brandon Szuminsky, assistant professor of communication studies, is winning recognition for excellence in student journalism again this year, after undergoing a transformation that has seen the staff grow from a handful of students to about 30 staffers.
Two competitions, many awards
This spring, the paper has earned awards from both the Ohio News Media Association (OHNMA) 2019 Ohio Collegiate Newspaper & Best Website Awards and the Society of Professional Journalists (SPJ) competition. This is the second year of recognition from the SPJ.

The Exponent placed in four categories in the OHNMA competition: news coverage, in-depth reporting, sports coverage and design. The staff took home first place for news coverage with the judge's commenting, "Absolutely stellar newspapers. Superb mix of stories, photos, writers, layouts. The total package."
Executive Editor dives into Title IX
In addition, student executive editor Emma Selmon '19 was recognized with a first-place prize for her in-depth reporting on Title IX forums in spring 2018. "I'm excited that we are receiving the recognition we are … it's really cool," said Selmon, who spent hours attending various forums and interviewing people on a challenging topic. 
Selmon and The Exponent garnered additional recognition from the SPJ in a four-state region (Ohio, Michigan, Pennsylvania and West Virginia). The paper was a finalist for Best All-Around Newspaper against much larger schools. The other finalist was The Ohio State University, and the winner was Ohio University.  
"According to the judges, our newspaper is just as good as Ohio State's and right behind OU, while also being better than every other college in four states," said Szuminsky. 
Selmon won the SPJ's breaking news category for her Title IX reporting, and Amber Bills '19 was a finalist for her work on BW's zoning application for the proposed new math, computer science and engineering building. 
Confidence from professionals in the industry
"It's a great way to get some external validation for the work our students are doing day in and day out. When professionals in Ohio look at the work we've done and judge it to be the best in the entire state of Ohio, that's a pretty good vote of confidence," said Szuminsky, who credits the entire staff for the awards.  
With The Exponent thriving as an award-winning learning laboratory, BW recently launched a new minor in convergent journalism, "built around honing transferable skills in interviewing, writing, social media, design, and social media production for today's media … as a complement to a wide range of majors."