Alumna promoted to managing director at prestigious Cleveland PR firm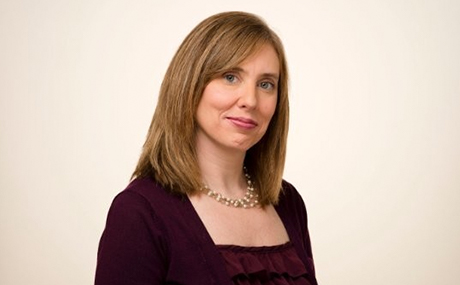 Renowned public relations, communications and marketing agency Dix & Eaton has promoted Amy McGahan '92, a public relations major (formerly speech communications), to managing director.
McGahan joined the firm in 1997 after working for the Cleveland Hearing & Speech Center and Eliza Jennings. She has more than two decades of public relations experience and has constantly proven herself to be an adept communicator and counselor, making her the ideal candidate for managing director.
Praise from the CEO
"She is such a skilled practitioner and advisor, and [consistently] stands out as a senior leader," said Chas Withers, Dix & Eaton CEO.
McGahan specializes in "helping clients navigate high-stakes and high-profile crisis situations." Withers attributes McGahan's foresight and insight into various situations to her success in this field.
In addition to crisis communications, McGahan serves as a coach for executives, helping to improve presentation during media interviews.
As a new managing director, McGahan will continue her work with important situations with clients. Her focus will be on change management, alleviating challenges and augmenting strategic opportunities.
Being promoted to new heights
"By the time you are promoted you are actually doing the job that you are promoted to," said McGahan. With this work, McGahan said she will also take on more business development and will oversee the media relations practice at Dix & Eaton.
This promotion permits McGahan to take on new challenges and roles for Dix & Eaton's clients. She notes that change is a "constant for our clients" and that she is personally excited to be taking on this position because she will work with "diverse and innovative thinkers" to get the best results in "volatile and unpredictable times."
McGahan states that she loves "the people I work with here at Dix & Eaton. I love our clients ... our firm is highly ethical, and we work with clients who are the same." She mentions that she loves the variety her job as a public relations professional affords her.
McGahan continues to stay involved with her alma mater by presenting to classes, and she emphasizes doing as much volunteer work as possible. "A lot of nonprofits are looking for communications and marketing help," she said. In addition, she is a Baldwin Wallace Annual Fund Class Representative.