Cupid's Coeds
For more than 2,000 alumni couples, the sparks that ignited a lifetime of love first flew at Baldwin Wallace. To mark Valentine's Day 2019, we celebrate the romance "origin stories" of six #YJ4L pairs.
Fit for Each Other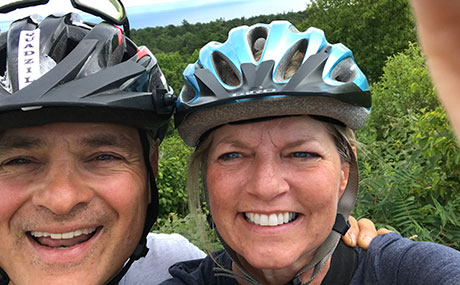 Who knew a snowstorm could play Cupid? Jackie (Hayes) Rodriguez '85 and Mark Rodriguez '83 were among the BW Health and Physical Education students who gathered to go to an out-of-town conference, only to have snowy weather force a cancellation. Everyone decided to go to breakfast and Jackie met her future husband when Mark looked up from a three-egg omelet to say, "hello."
When they married two years later, Mark inscribed "Fit Forever" on Jackie's wedding band, since their passion for an active, healthy life helped bring them together.
Today, they celebrate more than their own BW bond. "We had strong mentors that we still connect with today, which provided not only guidance, but friendships that we cherish. BW is special — we will always be YJ4L!"
Love knocking at your door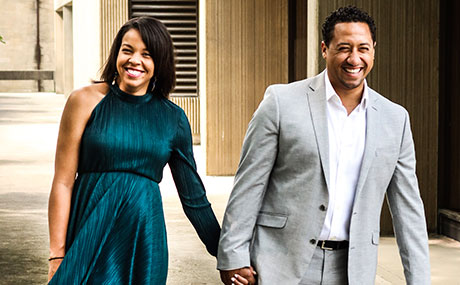 An impromptu knock on a friend's dorm door turned into a forever connection for Nicole (Bell) Mitchell '04 when Nate Mitchell '04 happened to be in the room. Unbeknownst to Nicole, Nate had noticed her photo on her door and hoped to meet her. The pair soon discovered that they had a lot in common, including running track for BW.
Though they went their separate ways for 10 years, that BW connection would lead them back to each other. In 2017 they married and welcomed their "first little guy" on December 29, 2018. Nicole says, "BW represents such a significant time and place … where we not only fell in love, but … laid the foundation for our careers, community commitment and lives."
From 'Big Four' to perfect pair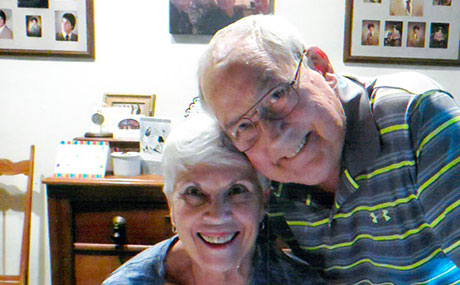 Pat (Tinder) Beckman '61, M.A.Ed. '91, and Dave Beckman '60 met following a football game at a Greek Life "Big Four" party where Dave stood out because he was wearing a cast. Pat took note, asking a friend "who that cute guy was."
A week later, Pat was ushering at a campus play where she had the opportunity to talk to Dave away from the party. They clicked and have been together ever since.
Married in 1961, their BW ties have continued beyond their undergrad days. Pat worked for BW for 19 years, and they continue to volunteer and donate. Pat says, "BW has been a main focus for most of my life."
Role of lifetime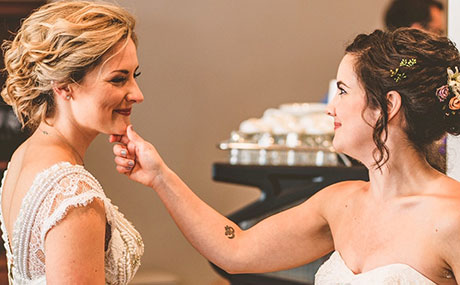 Lindsey Mercer '13 and Erin McCamley '11 met in a BW production of "Moon Over Buffalo" directed by Jack Winget. Erin calls the casting "remarkable" because she was not a theatre major and randomly auditioned at the suggestion of a friend. She landed the role and "the love of my life."
Lindsey and Erin married September 23, 2017 at the Cleveland History Center with BW grads in the bridal party and "multiple musical flashmobs." Erin notes, "BW completely changed my life in the best ways possible and gave me the best friendships for life." Lindsey adds, "BW changed the way I view the world and my place in it. Technically, all I needed to get from BW was my degree, but I'm lucky I got so much more."
A course in the romantics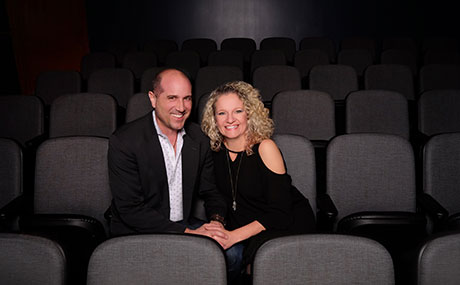 A random course selection during registration placed Mark Danni '88 and Karen (Molnar) Danni '87 in each other's paths. They met in Dr. Robinson's history and literature class and soon made plans to meet up for a first date at the old Berea Cafe ("the BC") on Front Street across from The Shoppe.
They describe BW as the place where they not only made a love connection, but where they met lifelong friends — both classmates and teachers — who they are in contact with to this day. "Our lives were forever changed by meeting these people and, of course, by meeting each other. We are not only husband and wife but great friends and partners in everything we do."
Heading to the finish line together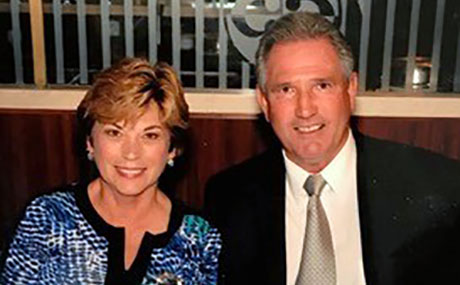 Dick Scott '68 and Lanalee Hanely '69 were introduced by Sparky Adams '69, the son of Dick's BW track and cross-country coach. The 1966 Winter Homecoming Dance was their first date.
In his senior year, Dick proposed on an outing to Wallace Lake in the Metroparks prompting Lanalee to ask, "Why here?" Dick responded, "It's the start and finish line of the BW cross-country course and I would like to start and finish my life with you." (Swoon!)
On the continuing, blessed path to that finish line, the couple just celebrated their 50th wedding anniversary with a trip to Israel.