BW student newspaper earns national honors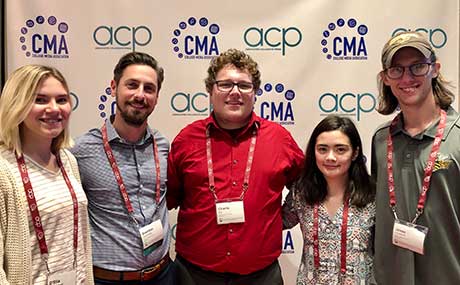 With hard work and dedication, a lot can be accomplished in a short amount of time, and the staff of BW's student newspaper, The Exponent, is reaping the rewards.
The Exponent won an Honorable Mention in the College Media Association Pinnacle Awards for student newspapers that publish less than weekly and eighth-place in the Associated Collegiate Press Best of Show competition in the same category at the National College Media Convention in Washington, D.C.
Payoff for hard work
The Exponent staff members D'Ella Heschmeyer '23, Charlie Egli '20, Viola Sullivan '20, Jesse Kucewicz '20 and faculty advisor Dr. Brandon Szuminsky attended the convention, hosted by the Associated Collegiate Press (ACP) and the College Media Association, along with 1,600 other media students and their advisors from across the country. The competitions draw the best of college media, involve over 100 schools and are judged by the two highly regarded student press organizations.
Szuminsky said, "I think these awards are a reflection of the fact that the staff of The Exponent has worked really hard to produce a newspaper that, when stacked up against the college papers from across the nation, stands out as one of the top-five or top-ten. It's a testament to a lot of hard work and long hours. I think it is something that can be really encouraging moving forward."
Small school experience, big school benefits
BW competed with schools like the University of Texas at Dallas and Southeast Missouri University. "If you look at the schools we are ranked with, there's some really big programs, some really big schools, and I think it speaks to the fact that you don't have to sacrifice the quality of a small school education to get a high-quality educational experience," Szuminsky said. "We are able to hang with schools that have 10-, 15- or 25,000 students, and you can get this same level of experience without just being a face in the crowd."
Room to grow
While The Exponent has been recognized as one of the top-three student newspapers in Michigan, Ohio, West Virginia and Western Pennsylvania by the Society of Professional Journalists, this was the first time the newspaper had entered into the National ACP competition. Earning a place in the top-eight is something Szuminsky is looking to build on.
"There are still seven spots to go," Szuminsky said. "I think this is a good start in the sense that we now know we are able to compete, and we need to find ways to move up the list."
The original version of this story first appeared in The Exponent, the award-winning student-run newspaper of Baldwin Wallace University. Edited and reprinted with permission.