Marking a Milestone: BW Celebrates 2019 Fall Commencement
With pomp and pageantry, nearly 350 undergraduate and graduate students celebrated the completion of their degrees as the Baldwin Wallace University staged the 2019 Fall Commencement exercises on Saturday, Dec. 14, 2 p.m., in the Lou Higgins Center.
Before they took a triumphant walk across the stage to receive congratulations, the graduates, along with the assembled family and friends, heard an inspiring commencement address by Ron Soeder '76, the visionary and award-winning president and CEO of the Boys and Girls Clubs of Cleveland (BGCC).
After graduating from BW with a business degree, Soeder spent nearly 30 years in the wall covering industry prior to joining BGCC in 2006 where his tenure has been marked by creative partnerships and earned him the national organization's highest honor, the "Heart and Soul Award," in 2018. 
Changing the world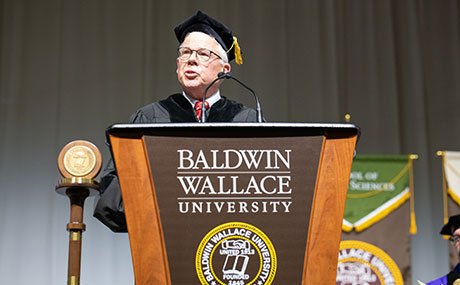 "As someone who made the switch from private industry to the world of nonprofits, I can tell you that no matter where your career takes you, you will never regret helping the people who need us most," Soeder told the Class of 2019. "You are the hope. You can be the change we seek, the change we need."
He went on to encourage each grad to do three things daily. "Always show up, employ random acts of kindness and lift just one person up. It is not just a way to change your outlook. It is a way to change the world."
For Soeder's exemplary career and service to the Northeast Ohio community, BW conferred on him an honorary Doctor of Humane Letters degree.
Celebrating student achievement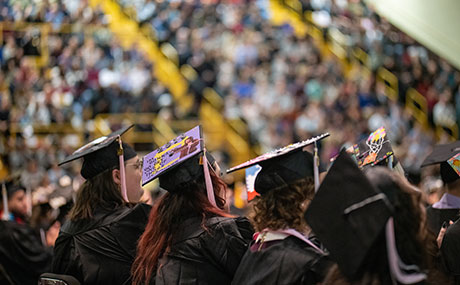 The ceremony also included special recognition for high-achieving undergraduates who graduated in three categories of honors: 19 earned summa cum laude recognition with a cumulative grade point average of 3.90 or higher; 22 graduated magna cum laude with at least a 3.75, while another 19 earned cum laude honors with at least a 3.60. Students in the elite Dayton C. Miller Honor Society and Honors Program were also applauded.
BW President Robert C. Helmer personally congratulated each graduate as their names were called, and they walked the stage to the cheers of proud family and friends. With that and the traditional turn of their tassels, the grads solidified their place among thousands of BW alumni or "Yellow Jackets for Life." 
A final longstanding commencement custom closed out the ceremony as the Senior Class added distinctively colored ribbons to the "ring of ribbons." The ritual ties BW grads together from generation to generation and includes the colors of every graduating class since 1915. 
A day-long Celebration
Prior to the "main event," BW commencement day began with the traditional Baccalaureate service in the Lindsay-Crossman Chapel. The gathering included music and readings by students and faculty, and words on "Love and Fear: Nothing in Between" by professor Mary Dobrea Grindhal.
Baccalaureate was followed by the President's Reception in the Strosacker Hall union ballroom, where all graduating seniors and their families, faculty and staff were invited to mix and mingle, snap photos and enjoy heavy appetizers and desserts.
Photos and Live Stream Video Replay
WATCH VIDEO >> https://www.bw.edu/commencement/
Look for additional photos on BW's Instagram, Facebook and Flickr pages.