Student interns for national alternative break organization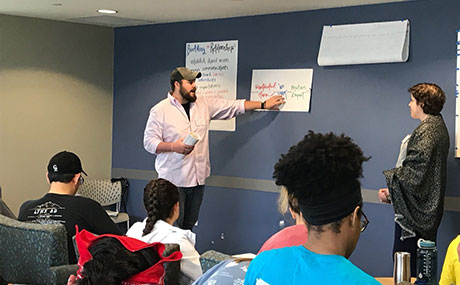 For Peyton Flasco '19, this is a summer filled with outreach, education and travel with a national organization. In his highly selective internship for Break Away, a national  organization for alternative break programs, Flasco is helping to run trainings all over the country.
National alternative break organization
Break Away is a nonprofit focused on developing and improving alternative break programs. Rather than directly organizing trips, Break Away helps share information for developing these programs, trains student and staff leaders, and provides resources through searchable databases.
Flasco plays a key role in Break Away's Alternative Break Citizenship schools (ABCs), a program for student and staff leaders of alternative breaks at their respective campuses. ABCs are taking place this summer in Atlanta, Houston, Salt Lake City and Prince William Forest Park, Virginia.
Many hats
Flasco, a public relations major and student director of alternative breaks at BW, has taken on many different roles during this internship. From research to planning social activities for the ABCs to making sure all the attendees make it to the conferences, Flasco and his fellow interns have been busy wearing many hats in order to help things run smoothly.
"While the conference is underway I become a facilitator," Flasco explained. "I lead several workshops throughout the week on different topics like community impact or recruitment and selection."
Teaching and learning
In addition to helping teach and lead others, Flasco himself is learning and growing through his internship experiences.
"This internship has been one of the more challenging things I've done, but in the best way possible," shared Flasco. "The entire time that the conference is going on I get to meet so many amazing people who have great ideas for the future of this program as well as plans for bettering their communities.
"It has been one of the most rewarding experiences I have had the pleasure to be a part of," Flasco said.