Finance firm's youngest-ever VP honored by Crain's Cleveland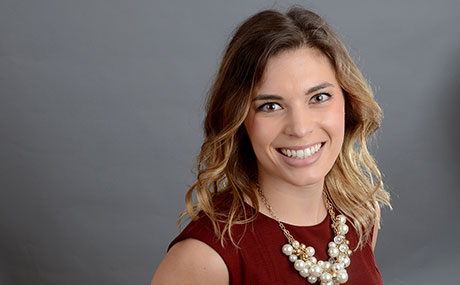 Only four years after graduating from BW, Brooke Hradisky '14 is already establishing herself in the world of finance as the youngest vice president in the history of Carleton McKenna & Company and a 2018 Crain's Cleveland Business 20 in Their 20s honoree. Hradisky found her path to success after a fateful turn of events helped her land an internship with the Center for Innovation & Growth (CIG) during her senior year.
Opportunity with the CIG
Hradkisky, who earned a degree in sociology and political science from BW, had initially intended to pursue a career in sociology after graduation, but a seminar steered her down a different path.
A successful student athlete who ran cross country, indoor track and outdoor track, Hradisky was recommended for a student athlete leadership seminar hosted by the CIG during her senior year. That experience propelled Hradisky into an internship with the CIG's consulting practice, which completely changed the course of her future.
"It is a really neat program that puts students in real-world experiences," Hradisky said of her internship in a Crain's Cleveland Business article.
Launching her career
Hradisky's internship with the CIG ended up helping her land a job as an analyst with Carleton McKenna, a boutique investment banking firm.
The chair of BW's board of trustees during Hradisky's time with the CIG happened to be none other than Paul Carleton, managing partner of Carleton McKenna. After impressing Carleton during a CIG presentation, Hradisky joined the company fresh out of BW. She has steadily been climbing the ranks since then, having become an associate in 2016 and now vice president as of earlier this year.
20 in Their 20s
Hradisky is one of the 2018 20 in Their 20s honorees through Crain's Cleveland Business. This honor is presented to 20 outstanding young professionals working in the Cleveland area each year. The honorees have already had a positive effect on their businesses and communities and represent the future of business leadership.
"I never would have chosen finance eight years ago, but I can see myself playing around in this world for a long time," said Hradisky.