BW grad seeks HOPE for Ohio's children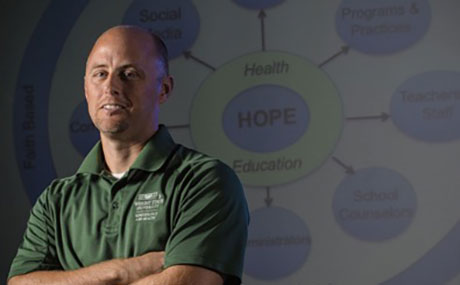 In the battle against opioid addiction, Baldwin Wallace graduate Dr. Kevin Lorson '98 is on the front lines as the author of a classroom program offering "HOPE" and prevention to students across Ohio.
"I don't take this situation lightly," said Lorson, who majored in health and physical education at BW. Lorson developed the Health and Opioid Prevention Education (HOPE) Curriculum to meet an urgent legislative mandate that all Ohio schools adopt a K-12 health education curriculum that includes opioid prevention and medication safety.
"The HOPE Curriculum is designed to engage children and teachers at the youngest age possible so that we can help them learn the skills to make healthy choices and to understand the implications of making unhealthy choices," said Lorson, who previously taught and coached at the high school level and is now a professor and director of the Physical Education Licensure Program at Wright State University in Dayton. "I'm not sure this is the magic bullet, but the focus on these concepts and skills gives us a place to start and a rallying point for teachers, students, parents and communities."
The HOPE Curriculum
The HOPE Curriculum was initiated in 2016 with grant support from the Ohio Department of Higher Education, and lessons are free and available to all Ohio schools via the state's Start Talking! website.
"I went before the Ohio legislature and argued that the [old] program lacked an effective method of completion," said Lorson, who received the Chancellor's Award from the Ohio Department of Education for his efforts. "We needed a better method, and I hope we are steadily moving in that direction now."
The HOPE curriculum is a series of lessons, assessments and learning materials to develop students' functional knowledge, attitudes and necessary skills to prevent drug abuse.
New approach
"Where we used to rely on 'scare' tactics to teach our children about the scourge of drug abuse," said Lorson. "We are now using a common-sense approach of discussion."
"Our goal is not just to educate the children," continued Lorson, a former president of the Ohio Association for Health, Physical Education, Recreation and Dance. "It also is designed for the children to educate their family members as well as other children. By teaching our children to make good, smart choices early in their lives, we hope they will be the next set of teachers in the fight."