Accounting students place second in intercollegiate ethics competition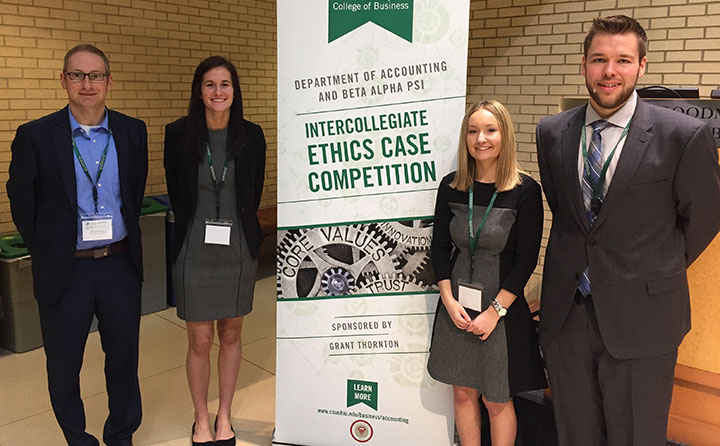 BW claimed second place among six universities that competed in Northeast Ohio's First Annual Intercollegiate Ethics Case Competition on Saturday, April 14. After beating Walsh and John Carroll in the first round, the BW team finished a close runner-up to Case Western in the championship.
The BW team, mentored by BW School of Business professors Daniel Schrag and Peter Kwiatkowski, included Lauren Haynam '18 and Samantha Vincze '18, both completing a 3/2 accounting program (BA and MBA) in December, and Matthew Schneider '19, who is pursuing BW's new Master of Accountancy degree.
"This experience was a great opportunity to put our critical thinking skills to the test in an environment that enabled us to have a little 'friendly competition' between schools," said Schneider.
Honing skills employers prize
"The students did fantastic work summarizing a complex international ethics case," said professor Schrag. "They gained valuable experience delivering a presentation in a stressful setting. With a 15-minute clock, a full auditorium and a Q&A session from the judges, the students learned to present in a succinct and articulate manner while thinking on their feet."
"Rewarding" is how Vincze describes the competition. "It allowed me to greatly improve my presenting skills, which will be extremely beneficial as I start working in the near future," she said.
All three students have completed internships at major accounting firms in Cleveland and received job offers well ahead of graduation. Haynam is going to work for Cohen & Co. and Schneider and Vincze are heading to Ernst & Young.