World champion marches to the beat of his own drum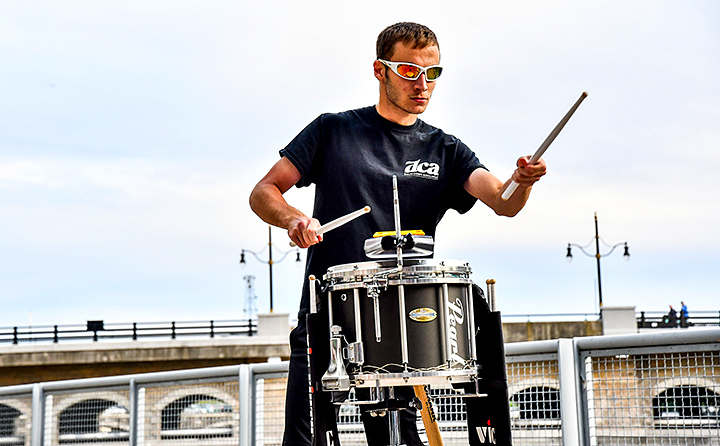 When he's not busy with academics, music education major Gabriel MacWilliams '21 loves to "snare" a win any chance he gets.
The ambitious, good-natured freshman from Farmington, New York, is a two-time world champion for snare in the Drum Corps Associates World Individual & Ensemble snare solo competition. He is both the 2016 winner and current champ, having outplayed 12 other competitors from across the U.S. and Europe by scoring 97 out of 100 last September. According to MacWilliams, his score was one of the highest ever recorded for snare.
Not only a drummer, a showman
With a penchant for music and a flair for showmanship, MacWilliams thrives on transforming every moment into a center-stage opportunity where whimsical expression transforms his music into captivating performances.
On campus, he can be seen playing his drum in front of Boesel Musical Arts Center or at obscure places far from the Conservatory of Music, such as the outer perimeter of Fisher Field on a balmy or sub-freezing day. Or he can be found dutifully performing alongside other members of the BW Marching Band, Wind Ensemble, Jazz Band and Combo, and Percussion Ensemble. He also performs as part of DownBeat Percussion, the official drumline of the Buffalo Bills.
From hurdles to happiness
With his first semester completed, MacWilliams says he's "already been influenced by the many talented faculty, staff and students of BW." But, he admits, the road to BW wasn't smooth. In junior high and high school, he felt pressured by staff and students to stop following his dream. But he persisted.
"At BW, a lot of people encourage me to be my best," he noted. "Being a music education major, I want to inspire the next generation of students so they can reach their full potential just like I'm being pushed to reach mine here at BW." 
Photo courtesy of Chris Maher, chris@corpsreps.com. Copyright 2017