Alumnus on 300-mile trek to create environmental awareness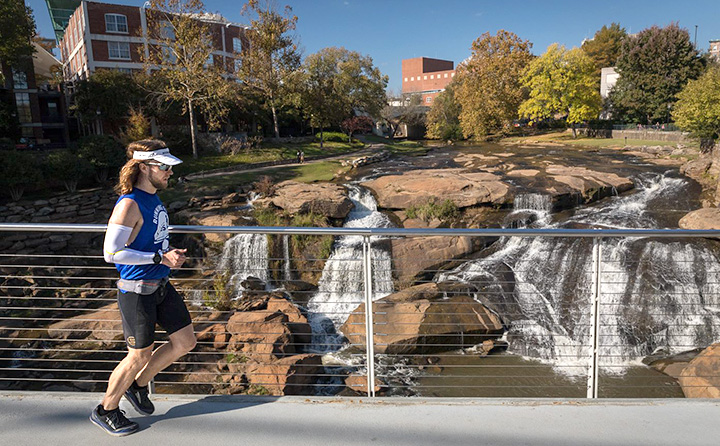 Ultramarathoner, environmental scientist and Baldwin Wallace graduate Keith "Wildman" Hanson '08 has taken to the streets to raise awareness for clean water and river conservation efforts in South Carolina.
A biology major whose focus included environmental science, Hanson currently works as a contract environmental scientist for the National Oceanic and Atmospheric Administration (NOAA), where his focus is on the conservation of freshwater, estuarine and marine species and habitats.
Hitting the Streets
Noticing the correlation between rivers and human health and prosperity, Hanson launched the Running for Rivers presented by RES campaign with a goal to run 300 miles in three days to raise money and awareness for the national non-profit river conservation organization American Rivers. 
The run was set to begin in Cleveland, South Carolina, near the Saluda River and end in Folly Beach near the Stono River, taking Hanson through the metropolitan areas of Greenville, Columbia and Charleston.
Hanson has run his fair share of races, including the Leadville Trail 100, Florida KEYS 100- and 50-mile ultramarathons, Badwater Cape Fear Ultramarathon, Harbison 50K Trail Race, Jordan Lake 12-hour Challenge and the Kiawah Island Golf Resort Marathon.
Up to the Challenge
Hanson planned to complete the 300-mile run in 72 hours or less, representing the fastest known time for upstate-to-coastal crossing of South Carolina. However, Hanson was only able to run 150 miles in 53 hours, reaching as far as Columbia, before making a difficult decision to end the run.
As of Jan. 3, 2018, Hanson had raised $6,345 for Running for Rivers presented by RES and has plans to finish the final 150 miles in the fall of 2018.