New BW 'Career Captains' event links student-athletes to alumni mentors
Baldwin Wallace University is forging new career connections between student-athletes and Yellow Jacket graduates.
In November, BW Career Services and the Department of Athletics combined forces with the new Brown & Gold Club and the Center for Innovation & Growth (CIG) to host the first gathering of "Career Captains."
Recognizing career skills in the athletics experience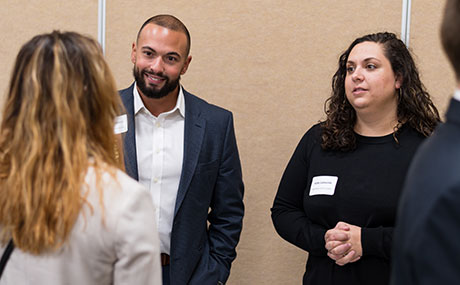 The event matched current BW student-athletes with alumni who are professionals in a number of fields. The student-athletes met with alumni in either a one-on-one or group discussion about future career opportunities.
"Career Captains was an exclusive event for student-athletes that helped them identify and articulate the important transferable skills developed as student-athletes such as communication, teamwork, leadership, ethics and conduct, self-motivation, dedication and determination," said BW Director of Career Services Carmen Castro-Rivera.
The 'Career Captains' connection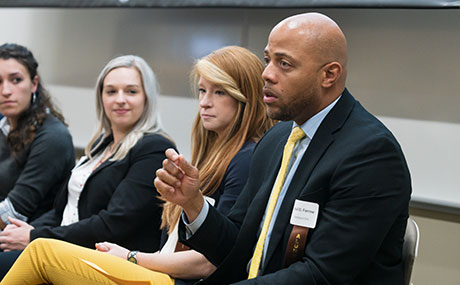 Thirty-two student-athletes representing 12 varsity teams attended the inaugural event and 20 businesses, alumni and friends served as mentors and panelists.
Student-athletes heard from and networked with BW athletics alumni to learn about their career journeys and get tips and advice. Alumni and guests representing diverse organizations and industries shared feedback and suggestions to support students in their networking skills and career development.
To participate, student-athletes had to be nominated by a coach and participate in two or more career development activities during the fall semester, such as meet with a career advisor or attend a career fair or workshop.
Praise for a powerful collaboration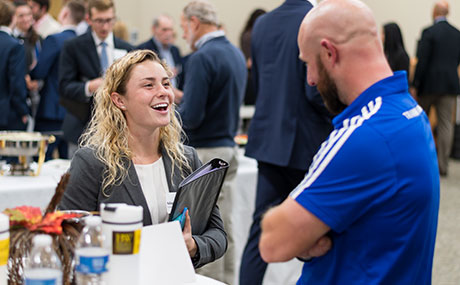 A.J. Miller, a junior quarterback on the Yellow Jacket football team, had high praise for the "truly professionally facilitated event."
"The best piece of advice that I walked out of this experience with was that the BW alumni network is special, so tap into it," said Miller, an international studies major from Coral Springs, Florida. "I hope this event continues on a regular basis."
"There has been so much positive feedback from employers, alumni, students and coaches," said Head Men's Lacrosse Coach Trey Keeley, one of several Yellow Jacket coaches involved in organizing the event. "The BW connection is a powerful one, and I know our students are feeling the positive effects."
"It is our intent to build on the success of this inaugural Career Captains event and make it a bigger and better annual offering," added Castro-Rivera. "This type of collaboration demonstrates BW's clear commitment to the success of student-athletes while at BW and beyond."