Whether violin or fiddle … her talent is 'royal'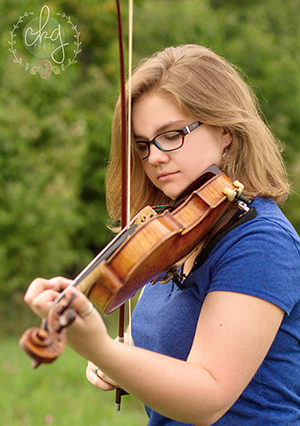 She met Meghan Markle before she was Her Royal Highness the Duchess of Sussex. It was a split-second greeting, but the breath-taking moment wasn't lost on Meredith Hopkins '16.

Seven months later, Hopkins had another awe-filled moment as the title of National Scottish Fiddle champion was bestowed on her in Edinboro, Pennsylvania. For the homeschooled student from Pittsburgh, it was an accolade she had been working toward for 10 years.
Among musicians, the difference between a violin and a fiddle is sometimes said to be nonexistent. Others would say it is the number of strings and a third group might define it to be the type of music performed. For Hopkins, the difference lies in how the instrument is played.
Using distractions to her advantage
Hopkins began playing the violin at age three. Ten years later, she was chosen by her music school to be part of a six-piece ensemble that performed at the White House Christmas party.
In 2012, she began her BW studies as a string performance major. She bridged her classical studies of violin with her love for Scottish fiddle music. Her professors and peers were among her greatest supporters.
She recalled a time during a National Scottish Fiddle Competition when everything went wrong. Lights in the room were turned on and off, cell phones rang loudly and cameras flashed. The distractions, she believed, cost her the competition.
"When I told my faculty mentor, Dr. Julian Ross, about the experience, he said we would find a solution before the next competition," recalled Hopkins. "A week before nationals, I performed the competition set for our studio class ... with a twist. The other students had to distract me by walking up on stage, making phone calls, singing and talking while I was performing. I went on to win third place in nationals."
A royal reception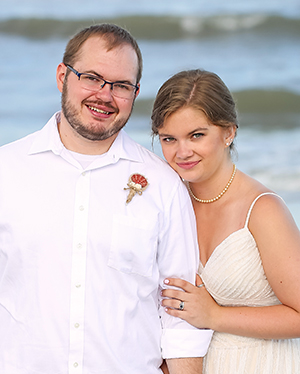 "While studying at the Royal Conservatoire of Scotland for my master's degree, an agent reached out to the school in February 2018 asking for a trio to play background music for a reception in Edinburgh. The reception was for schoolchildren to present their projects to Prince Harry and Meghan Markle," noted Hopkins.
"As part of the trio, I was instructed on how to speak and curtsy to royalty. At the end of the reception, we were personally thanked by the royal couple! It was an unforgettable experience," she recalled.
"This opportunity was one of many recent joys for me," she said with a smile. "In July of this year, I was married to Isaac Hopkins '16, a BW trumpet performance major, now pursuing his master's degree at the University of Michigan. We started dating in November of our freshman year ... and the rest is history!"