BW senior earns recognition at District Metropolitan Opera Auditions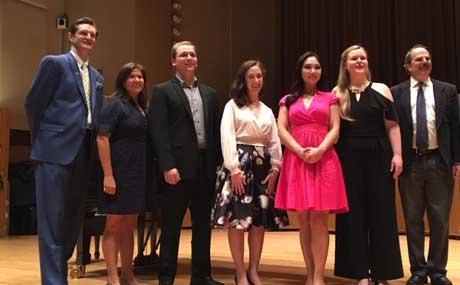 Voices were soaring at the Kulas Musical Arts Building earlier this month as the BW Conservatory of Music hosted the Metropolitan Opera National Council Auditions, Ohio District, and one BW student's performance was singled out for recognition and encouragement to keep pursuing his music dreams.
In addition to naming three winners (all in their mid to late 20s), the panel of judges for the prestigious competition presented BW Conservatory of Music senior tenor Ethan Burck '19 with an Encouragement Award.
At age 21, Burck was the youngest of the 11 singers competing. While his award did not advance him to the next round of auditions, the $250 cash prize is intended to offer support for a young singer of "exceptional promise."
The esteemed judges who recognized Burck's remarkable talent and bright future were David Craig Starkey, general director of the Indianapolis Opera, Melissa Wegner, executive director of The MONC, and Roger Pines, dramaturg with Lyric Opera of Chicago.
Burck is a voice performance major who studies with Dr. Marc Weagraff.