BW alumnus balances new opportunities as head coach and GM of Connecticut Suns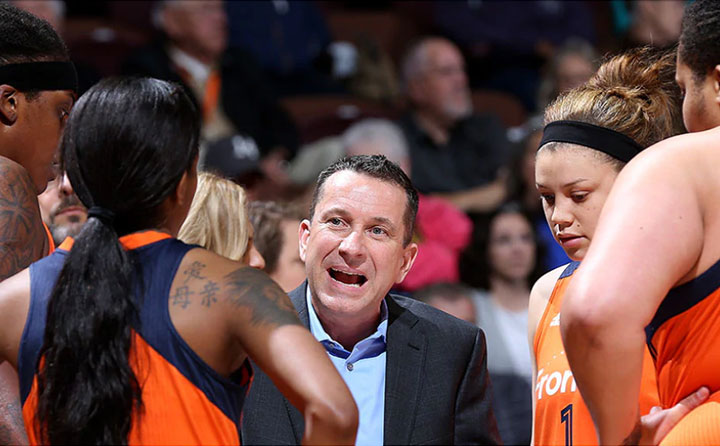 Now in the WNBA's offseason, Baldwin Wallace alumnus Curt Miller '90, head coach and general manager for the Connecticut Suns, finds there is no true offseason as he continues to balance new opportunities and consistent successes. 
Miller earned his B.A. in health and physical science and business administration and was also a BW Alumni Merit Award winner in 2015.
Career trajectory
After BW, Miller celebrated a number of successes including coaching for Cleveland State, Colorado State and Syracuse. In 11 seasons coaching at Bowling Green and two seasons at Indiana University, he was a five-time finalist for Division I Coach of the Year.
Moving to the WNBA, he spent one season as an assistant with the Los Angeles Sparks before accepting his current position as head coach for the Connecticut Suns, where he has enjoyed tremendous success, earning WNBA Coach of the Year honors in 2017. 
After completing his third season with the Suns, Miller was appointed to the prestigious 2017-2020 USA Basketball Woman's National Team player selection committee, tasked with selecting the 2018 USA World Cup team and 2020 USA Olympic team. "It's a fun added hat," Miller told The Day.
In June, he was inducted into the Erie Metro Chapter of the Pennsylvania Sports Hall of Fame.
Resource and role model
Miller, recognized as the first openly gay male coach of a professional sports team, was featured in inspiring and moving profiles in the New York Times in August and the Hartford Courant in July.
He told the Courant he has overcome fear and embraced his role as an LGBTQ role model. 
"I want to be a resource, someone people can reach out to. That's the way I can be a role model — to share my journey, show the hard times but also how well I've been accepted."