Aspiring sports agent scores Super Bowl success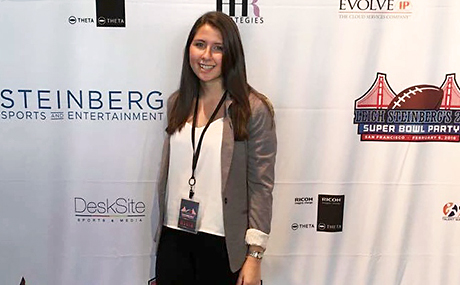 When it came to Yellow Jackets soccer, Julianna Rubin '17 put her game face on and stopped opponent goals. Today, the former Baldwin Wallace goalie and sport management major is out to score goals … namely, her own as well as for the clients she serves as assistant director of operations for nationally renowned Steinberg Sports and Entertainment.
The aspiring sports agent balances her part-time role at Steinberg with being a first-year law student at the University of Miami, a two-hour drive from her home town of Port St. Lucie, Florida.
In a career field where being a hard-charger is professionally as well as financially lucrative, Rubin serves as a role model for the value that poise and integrity bring to the pursuit of success.
Soccer, studies and Super Bowl
As a student, Rubin balanced soccer with her academic studies and a robust schedule of co-curricular activities. She interned with the Greater Cleveland Sports Commission, ESPN Cleveland and South Florida Surf in addition to participating in a BW study abroad trip focused on global sports.
While preparing to travel to San Francisco to participate in BW's annual Super Bowl trip, she made a bold move and contacted top sports agent Leigh Steinberg, CEO of Steinberg Sports and Entertainment, about volunteering for a professional event he was hosting that weekend. Her keen foresight paid off. She helped out at the event by greeting guests and VIPs as well as assisting clients.
Making connections that count
The connection was key. Rubin went on to intern with Steinberg Sports and Entertainment in summer 2017. She sat in on meetings, met with clients, and worked on recruitment presentations, endorsement contracts and other tasks as needed. Upon graduation, she continued doing projects for the firm.
"Julianna is a rising star in the industry," believes Chris Cabott, COO of Steinberg Sports and Entertainment. "We are very lucky to have her at Steinberg Sports and are thankful to BW's sport management program."
Transforming her dream into destiny
Today, Rubin attends law school full time and maintains a part-time role with the firm. Her goal upon graduation is to register as an agent in the NFL and work at the Steinberg agency, eventually transitioning into baseball operations.
"Were it not for BW's Super Bowl trip for sport management majors, I would have never met Leigh and Chris, who believed in me and offered me an internship and later a more permanent role with the company. My dream growing up was to be a sports agent," said Rubin. "It has been amazing to have had the opportunity to work for the best while still in college."