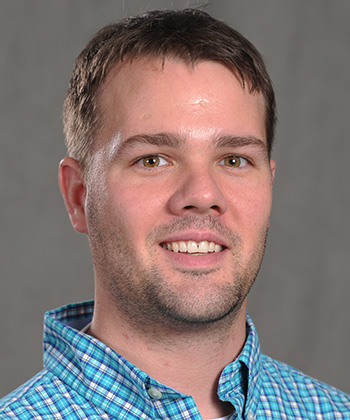 Composer-in-Residence
Professor of Composition
D.M., M.M., Indiana University Jacobs School of Music
B.M., Baldwin Wallace University Conservatory of Music
Contact: 
(440) 826-2397, cdneedha@bw.edu
The music of Dr. Clint Needham has been described as "wildly entertaining" (New York Times), "well-crafted and arresting… riveting" (Herald Times) and "stunning... brilliantly orchestrated" (New York Times). Needham recently served as the Music Alive: New Partnerships composer-in-residence with the Albany Symphony where his work "Everyday Life" was premiered. Following the premiere, The Daily Gazette praised his work as "full of a boisterous energy… his use of the orchestra's various colors was impressive" while Times Union called the work "a pastiche of beautiful, string-filled cinematic passages."
Needham's orchestral music has been commissioned and performed by the Minnesota Orchestra, Orpheus Chamber Orchestra, Albany Symphony, Omaha Symphony, American Composers Orchestra, Spokane Symphony, Aspen Concert Orchestra, Cabrillo Festival Orchestra, Sioux City Symphony, New York Youth Symphony, Texarkana Symphony, Symphony in C and the United States Air Force Band of the West, among others. Various chamber groups including Alarm Will Sound, the American Brass Quintet, Aspen Contemporary Ensemble, the Chicago Ensemble, Fifth House Ensemble, Hawthorne String Quartet, New York Classical Players, Dinosaur Annex, President's Own Marine Band Brass Quintet, Camerata Aberta, Quintet Attacca and the Stanford Wind Quintet have given performances of his chamber music across the country as well as in Europe, Brazil, Japan and Australia.
Upcoming performances of his work include those given by the Cleveland Chamber Symphony in collaboration with Verb Ballets, Iowa State University Orchestra, Idaho Falls Symphony, Space Coast Symphony, Buffalo Chamber Players, Baldwin Wallace Conservatory Wind Ensemble, Mirari Brass Quintet, Imani Winds and Orpheus Winds.
Needham's music has been recognized with numerous awards including the International Barlow Prize, Orpheus Chamber Orchestra's Project 440 Commission, Charles Ives Scholarship from the American Academy of Arts and Letters, two American Society of Composers, Authors and Publishers (ASCAP) Morton Gould Awards, the William Schuman Prize of the BMI Student Composer Awards, the Jacob Druckman Prize from the Aspen Music Festival, First Prize in the International Ticheli Composition Contest, the Heckscher Prize from Ithaca College, a Lee Ettelson Composer Award and the coveted Underwood New Music Commission from the American Composers Orchestra.
As an educator, Needham has served as associate instructor at Indiana University and assistant professor at Ohio Wesleyan University, and he is currently composer-in-residence and professor of music at the Baldwin Wallace Conservatory of Music. He holds degrees from Indiana University, where he was a four-year Jacobs School of Music doctoral fellow in composition, and from the Baldwin Wallace Conservatory of Music. His principal teachers include Claude Baker, Loris Chobanian, David Dzubay, Michael Gandolfi, Per Mårtensson, Sven-David Sandström and Richard Wernick. He has also studied with Robert Beaser, Syd Hodkinson, Christopher Rouse, and George Tsontakis at the Aspen Music Festival as a Susan and Ford Schumann composition fellow and with Mario Davidovsky at the Wellesley Composers Conference as a composition fellow.
Needham's music is published by the Theodore Presser Company with additional works published by Manhattan Beach Music and Triplo Press. Recordings of his works can be found on the Summit Records and Mark Masters labels as well as those recorded by the United States Air Force Band of the West, Bala Brass Quintet, Jack Sutte and the American Composers Orchestra Digital Release series volume 1.
Personal Website