Fawick Art Gallery, Kleist Center for Art & Drama
95 E. Bagley Rd., Berea, Ohio 44017
The Fawick Art Gallery holds six exhibitions each year, three in the fall and three in the spring. These exhibits include the annual ceramics invitational, the juried student exhibition and the exhibition of artwork produced by senior art studio and art education majors. Other exhibitions spotlight the work of Ohio artists. All exhibitions are free and open to the public.
Visit fawickgallery.com for additional information on upcoming and past exhibitions.
Gallery hours are 2 p.m. – 5 p.m., Monday – Friday, or by appointment at (440) 826-2152.
The Gallery is closed during breaks, holidays and the summer months.
Spring 2023 Exhibitions
Chroma Graphic Design Senior Exhibition
January 23 - February 10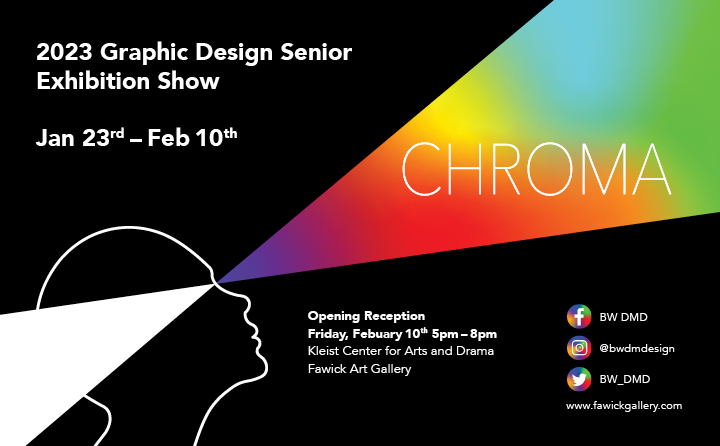 Closing Reception:
Friday, February 10, 5-8 p.m. 
The exhibition showcases Baldwin Wallace University's Digital Media & Design: Graphic Design senior students' professional print and digital portfolios. The works visually and creatively communicate each student's brand, emphasizing individual strengths and areas of specialization.
---
Studio Art Senior Exhibition
February 27 - March 24
Closed March 6-10 for Spring Break
Closing Reception:
Friday, March 24, 5-8 p.m.
An annual exhibition featuring the works of senior BW studio art majors.
---
Student Art Exhibition
April 10-28
Opening Reception:
Friday, April 14, 5-8 p.m.
A juried exhibition of the best of BW student art from any major.